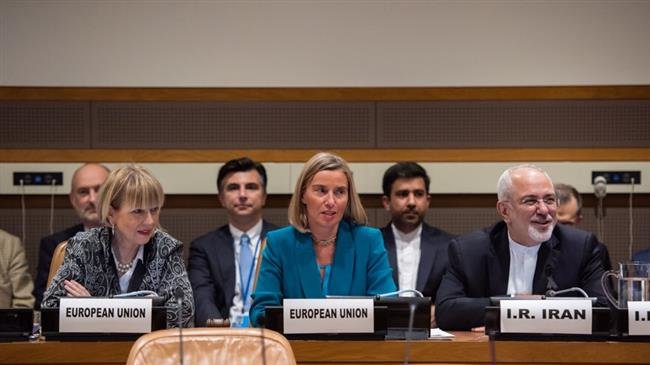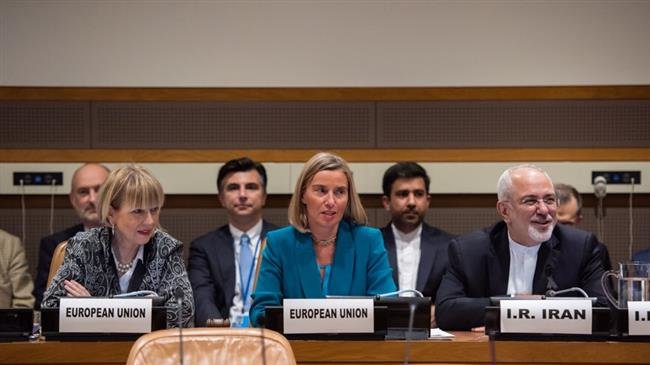 The EU says it has stepped up efforts to preserve a 2015 multilateral nuclear agreement with Iran after the US reinstated sanctions on the Islamic Republic's vital oil-exporting and financial sectors.
Speaking to reporters in Brussels on Friday, Maja Kocijancic, EU spokeswoman for foreign affairs, said the bloc had increased its efforts towards the enactment of mechanisms, including a so-called special purpose vehicle (SPV), to bypass the US sanctions and discard the dollar in dealings with Iran.
"The efforts to preserve the Iran nuclear deal and economic and trade relations with Iran have intensified in recent weeks, especially those that are related to the setting up of the special purpose vehicle," Kocijancic said.
The special purpose vehicle the EU is developing is aimed at helping companies avoid the US sanctions and continue doing business with Iran.
Kocijancic referred to the "blocking statute, which was updated in August" as "one of the key measures" taken by the Europeans to facilitate trade with Tehran.
A blocking statute is a law enacted in 1996 to protect European entities "against the effects of the extra-territorial application of legislation adopted by a third country."
The law went into effect on August 6, when the first set of US sanctions against Iran took effect. The statute would allow firms to recover damages from American measures and nullify any court ruling against them.
"This is one of the measures that have been put in place, but it's the one that's very relevant for companies because from our point of view, trade with Iran remains legitimate," she said.
Iranian Deputy Foreign Minister Abbas Araqchi on Friday commended the political stances of the Europeans in supporting the country in face of US sanctions but criticized "their failure so far to bring about operational approaches and meet our expectations."
"It is a fact that the Europeans moved much slower than we expected" in the direction of introducing the system, Araqchi said.
Washington withdrew from the nuclear deal in May. It re-introduced the first round of sanctions in August. The second round, which targets the country's energy sector among other things, took effect on November 5.
Despite opposition of the world countries to US sanctions on Iran, US National Security Adviser John Bolton said on Friday that more sanctions were possible on Iran.
"I think that you're going to see even more sanctions coming into play over time and much tighter enforcement of the sanctions," Bolton was quoted as having told reporters in Paris.