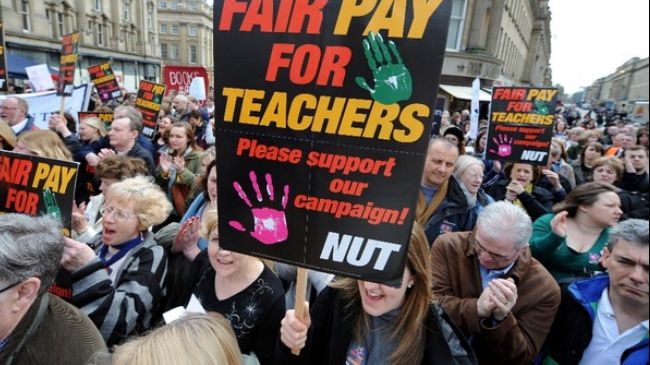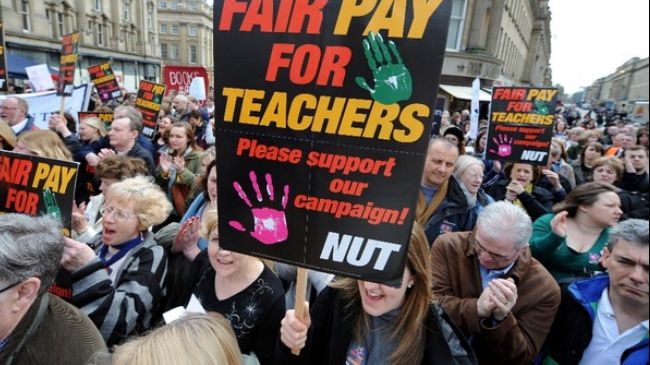 British teachers have begun a campaign of industrial action in a bitter row with the government over pay, pensions and workload that includes nine out of ten teachers across England and Wales.
Members of the National Union of Teachers (NUT) joined their colleagues from the National Association of Schoolmasters Union of Women Teachers (NASUWT) on Wednesday in a campaign of work to rule just short of full-scale strike.
This comes amid warning by union leaders that staff morale is "at an all-time low."
"Teachers are being undermined by a Government whose almost daily criticisms and erosion of working conditions and pay, coming on top of previous attacks on pensions, are unacceptable," NUT general secretary Christine Blower said.
This is while NASUWT secretary general Chris Keates said that involved teachers have been threatened by loss of salary over the action that they say constitutes breach of contract.
She warned they will intensify their campaign if the government fails to respond to their demands adding any schools or employers that punish teachers for taking industrial action will be challenged by the union.
"The action is already having an effect because there have been threats from local authorities and schools of breach of contract or deductions from salaries," she said.
"Teacher morale is at an all-time low and our research shows that over half are seriously considering leaving the profession," she added.