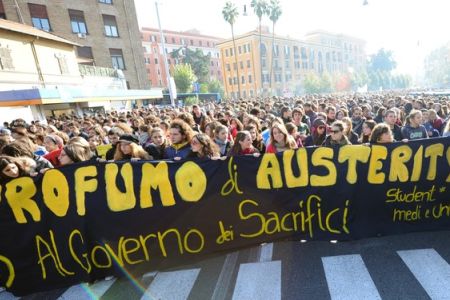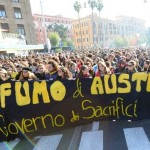 Thousands of Italian students have poured into the street of Rome and Milan to protest the austerity measures recently unveiled by the country's new prime minister.
The students threw firecrackers at police trying to prevent them from approaching the Bocconi university, which is chaired by newly appointed Prime Minister Mario Monti and has become a symbol for his new cabinet of technocrats, Reuters reported on Thursday.
Meanwhile, transport unions across Italy called for all-day walkouts and strikes for several hours to demand better work conditions. Transportation on the streets, subways and regional train routes in major Italian cities came to a halt for a few hours on Thursday.
The protesters in Rome planned to march to the Senate where Monti is scheduled to present his new anti-crisis strategy before seeking a vote of confidence on his government on Wednesday.
Sixty eight-year-old Monti, who is an economics professor, faces the challenge of implementing a major austerity package approved by the parliament in the past week to reduce the country's huge public debt.
The austerity measures demanded by European leaders are crucial to the future of the eurozone.
Experts say that Italy's default on its EUR 1.9 trillion debt would cause massive chaos in financial markets and shake the global economy.