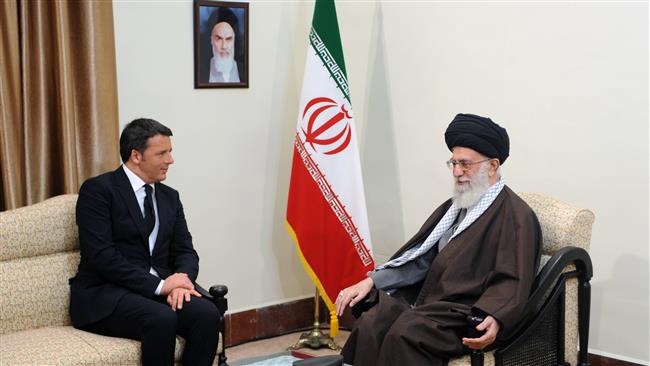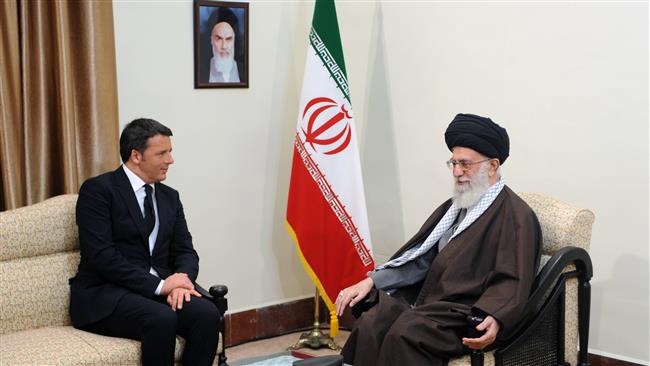 Leader of the Islamic Ummah Ayatollah Seyyed Ali Khamenei has criticized visits by European delegations to Iran for not yielding tangible and practical results, saying Tehran must be able to sense the outcome of such expeditions.
Ayatollah Khamenei made the remarks in a meeting with Italian Prime Minister Matteo Renzi and his accompanying delegation in the Iranian capital, Tehran, on Tuesday. Also present at the meeting was Iranian President Hassan Rouhani.
"Some European governments and companies have been visiting Iran and are in talks [with Iran], but the product of these negotiations has not yet been tangible," the Leader said.
"Certain shift the blame for this issue onto the Americans, which seems to be an acceptable assessment given their (Americans') track record and behavior," Ayatollah Khamenei said, adding, "As even now they (the Americans) are not acting as they should in fulfilling their obligations [made] throughout the nuclear talks [with Iran] and they scare the opposite parties away from cooperating with Iran through their remarks and actions."
The Leader said the Islamic Republic holds a positive and optimistic view of Italy, noting that Iran does not view "certain European countries" positively because of being obedient to the US.
Ayatollah Khamenei said Iran and Italy can cooperate in fighting terrorism.
"A number of European countries used to support certain violent terrorist groups for some time and today the dangerous and overarching wave of terrorism has reached Europe too," the Leader added.
Ayatollah Khamenei cited the US's financial and arms support for terrorist groups as an obstacle to the eradication of terrorism, adding: "There is authentic and accurate information about the US's aid for Daesh and certain other terrorist groups. Even now that they have formed a [so-called] anti-Daesh coalition certain American organs are helping Daesh in a way or other."
The Italian prime minister had arrived in Tehran earlier in the day at the head of a 250-strong political and economic delegation, making him the first major Western figure to travel to Iran after the lifting of international sanctions against the Islamic Republic.
Italian foreign minister, minister of infrastructures and transports, minister of economic development, and minister of agriculture, food and forestry policies as well as businessmen and personalities from Italy's public and private sectors are accompanying Renzi in the visit.
Six documents for cooperation were later signed during a high-level meeting presided over by Iranian President Hassan Rouhani and Renzi.
The trip comes three months after President Rouhani paid a visit to Italy, the Vatican and France in an important bid to rebuild relations with Europe after Iran and the P5+1 group of countries started to implement a nuclear agreement, dubbed the Joint Comprehensive Plan of Action (JCPOA), they reached on July 14, 2015.
After Iran and the five permanent members of the UN Security Council – the United States, France, Britain, China and Russia – plus Germany started to implement the JCPOA on January 16, all nuclear-related sanctions imposed on Tehran by the European Union, the Security Council and the US were lifted. Iran has, in return, put some limitations on its nuclear activities.
During President Rouhani's visit to Rome in January, Iran and Italy signed contracts worth up to 17 billion euros (USD 18.4 billion).