Europe
Ex-BBC presenter Stuart Hall gets fresh jail term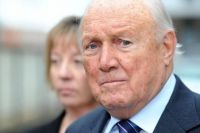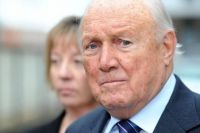 Veteran former BBC presenter Stuart Hall has been sentenced to a further two and a half years in prison for indecently assaulting an underage girl, adding to an earlier prison term for sexual offences.
Hall, 84, was handed the sentence on Friday following a conviction by a jury at Preston Crown Court in northwest England last week of indecently assaulting a complainant when she was under the age of 16.
Hall is currently serving a 30-month jail term after admitting to indecently assaulting 13 other girls, aged as young as nine to 17, over a 20-year period.
The 84-year-old UK celebrity was due to be released in September; however, he will now remain in jail until at least December 2015.
Meanwhile, former BBC DJ, Chris Denning, appeared in court charged with 41 alleged sex attacks on mostly young boys.
According to Press TV, in addition, British TV presenter, Rolf Harris, is currently on trial over allegations of a series of unrelated sexual assaults on four girls. Harris denies all allegations against him.
The UK celebrities are among several high-profile figures who have been arrested in the wake of an abuse scandal surrounding Jimmy Savile, a former BBC presenter.
Savile died in 2011 and following his death, hundreds of allegations of sex abuse and rape of minors became public.
According to a report by the UK police and the National Society for the Prevention of Cruelty to Children (NSPCC), some 214 crimes, including 34 of rape or penetration during 54 years of abuse committed by Savile, were recorded across 28 police force areas.