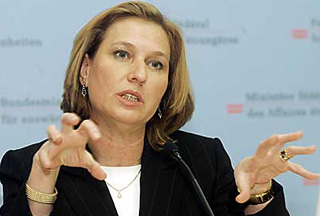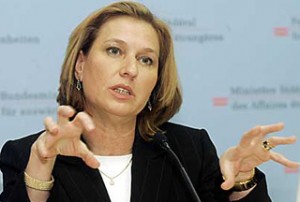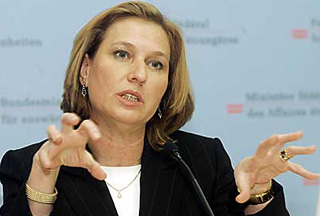 The former Israeli foreign minister says tougher sanctions must be exercised to force Iran to give up its nuclear program even if the US opened dialogue with Iran.
Tzipi Livni told US National Security Adviser Jim Jones on Thursday that tougher sanctions were needed to counter what she described as the Iranian threat, the Jerusalem Post reported.
"Even in a period of dialogue, the international community should prepare harsher and more effective sanctions so Iran understands what is on the horizon," Livni said.
She went on to say that the global community, in particular the US, has to adopt a clearer stance on Iran when it comes to its disputed nuclear program.
"The international community, led by the United States, must be clear about Iran and whether it would stop a nuclear Iran or come to terms with it. The world needs to be clearer on this matter," said the opposition leader.
Israel has long threatened to put an end to Iran's nuclear program, which it describes as a 'threat' to its existence, by resorting to military action.
Despite US President Barack Obama's promise to exercise diplomatic means, the US Senate approved a bill on Thursday to put pressure on companies selling gasoline to Iran over its nuclear work.
According to the bill, companies that continue to sell gasoline and other refined petroleum products to Iran will be banned from receiving Energy Department contracts to deliver crude to the US Strategic Petroleum Reserve.
Under US pressure, Israel's staunch ally, the UN Security Council has sanctioned Iran for its uranium enrichment activities.
Apart from the UNSC sanctions on Iran over its nuclear program, Washington has imposed unilateral embargos on Tehran since the victory of the Islamic Revolution 30 years ago.