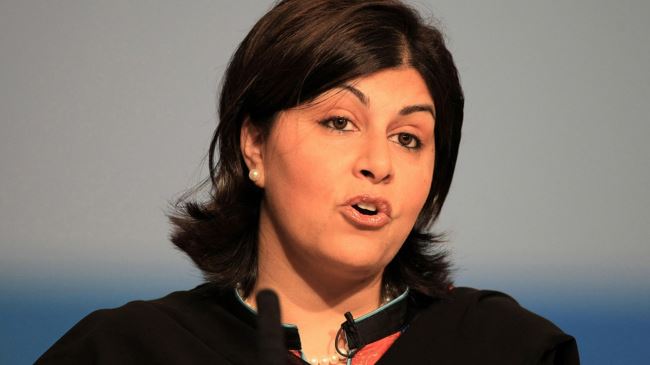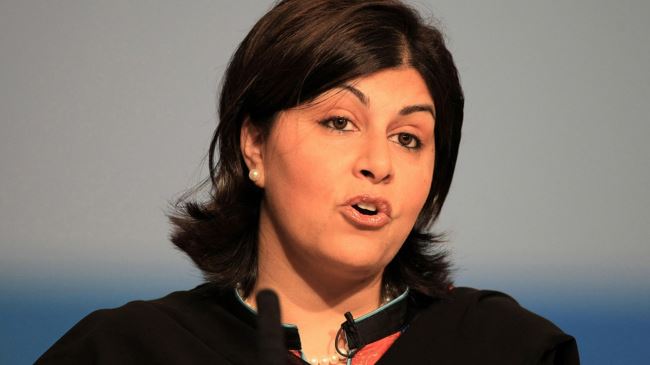 Former British foreign office minister, Sayeeda Warsi, has called on the British lawmakers to take a lead by recognizing the state of Palestine in an upcoming vote.
The Tory peer, who resigned two months ago over the coalition government's stance on Israel's onslaught against the Gaza Strip, told Sunday newspaper The Observer that Britain could regain its "moral compass" through the official recognition of Palestine.
"There is a lack of political will and our moral compass is missing," she said, adding, "Somehow we have to breathe new life into these [Palestinian-Israeli] negotiations, and one of the ways we can do that is by recognizing the state of Palestine."
Warsi, who was Britain's first Muslim woman cabinet minister, resigned in August over British Prime Minister David Cameron's "morally indefensible" failure to condemn the suffering of Palestinian people in Gaza.
The Israeli regime attacked the impoverished Gaza Strip from land, sea and air between July 8 and August 26. More than 2,100 Palestinians were killed in the Israeli offensive against the coastal enclave and around 11,000 others were injured.
The remarks come as British lawmakers are expected to debate a motion, proposed by Labor MP Grahame Morris, which calls on the UK government to symbolically recognize the state of Palestine.
The vote for the motion on the recognition of Palestine due later on Monday is expected to merely serve as a symbolic gesture and will not bind London to act on it.
This is while Cameron's spokesman has stressed that the vote will not alter the UK government's policy towards Palestine.
"I've been pretty clear about the government's position and it won't be changing," the spokesman added.
In November 2012, the United Nations General Assembly voted to upgrade Palestine's status at the UN from "non-member observer entity" to "non-member observer state," with Britain abstaining from the vote.
Palestinians are seeking to create an independent state on the territories of the West Bank, East al-Quds (Jerusalem), and the besieged Gaza Strip and are demanding that Israel withdraw from the occupied Palestinian territories. Tel Aviv, however, has refused to return to the 1967 borders and is unwilling to discuss the issue of al-Quds.