Featured
Exclusive: Zionists create unrest everywhere:'Israeli combat veterans led recent Ukraine riots'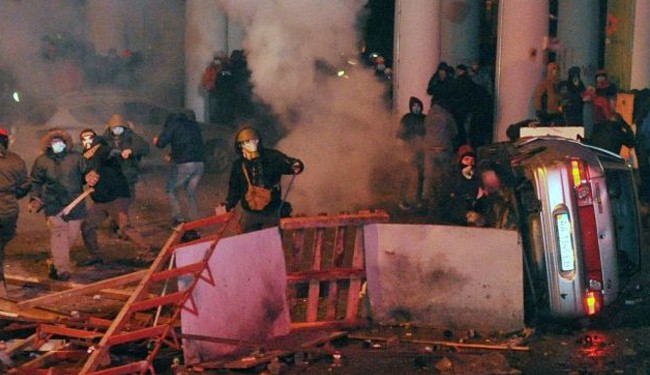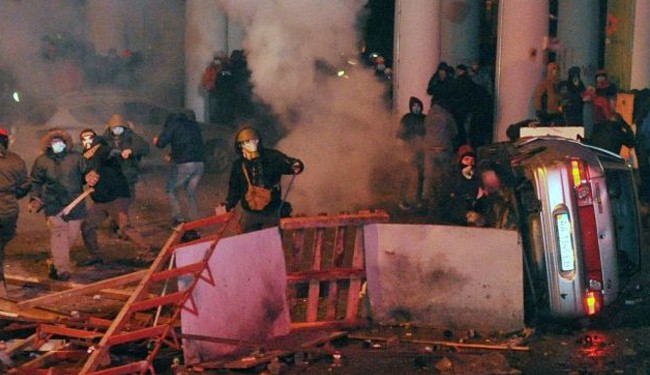 The Israeli regime's media outlets have reported that several ex-Israeli military forces played key roles in organizing violent street clashes with anti-riot troops in the Ukrainian capital Kiev.
According to reports published Friday by Israeli-based media outlets such as Haaretz and the Times of Israel, an Israeli regime military veteran, identified only as 'Delta,' led an anti-government street-fighting unit in Kiev during the recent unrest there.
The unit, called the 'Blue Helmets of the Maidan,' was made up of a force of 40 men and women, including several Israeli combat veterans. The reports added that the unit was linked to ultra-nationalist groups.
The reports also said that Delta, a Ukraine-born former Israeli soldier, used combat skills he acquired in the regime's Shu'alei Shimshon reconnaissance battalion of the Givati infantry brigade to rise through the ranks of Kiev's street fighters.
According to Delta, the Blue Helmets comprise 35 men and women, who are led by five ex-Israeli military officers.
Unrest erupted in Ukraine in November 2013, when the ousted president, Viktor Yanukovych, refrained from signing an Association Agreement with the European Union in favor of closer ties with Russia.
Russia has repeatedly warned the West about meddling in the internal affairs of Ukraine and fueling the crisis in the country.
In early February, a four-minute video was posted on YouTube by an anonymous user, in which US Assistant Secretary of State Victoria Nuland and US Ambassador to Kiev Geoffrey Pyatt discussed which of Ukraine's opposition leaders they would like to see in government.
On February 23, the Ukrainian parliament ousted Yanukovych and named Oleksandr Turchynov, the legislature's newly-elected speaker, as interim president.