Syria
Explosion targets Syria's Interior Ministry in Damascus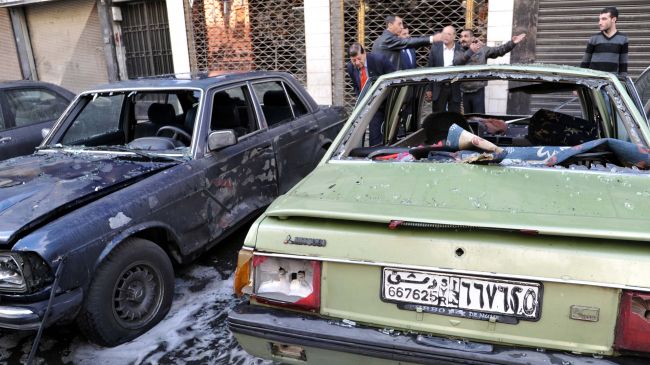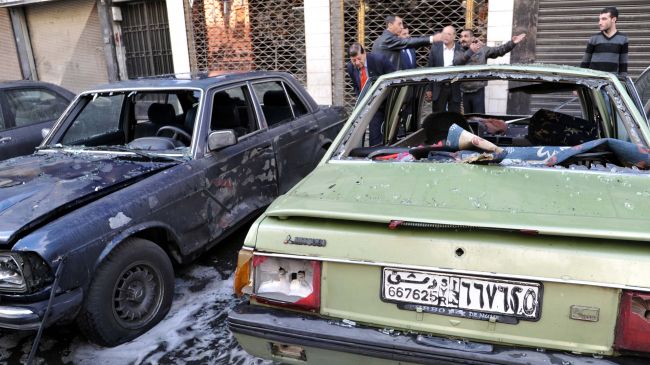 An explosion has taken place outside the main entrance to Syria's Interior Ministry in the capital city, Damascus, Syria's state TV says.
According to reports, three bombs ripped through the main entrance of the ministry which is located in the Kafar Souseh district of Damascus.
The blasts, one of which was caused by a booby-trapped car, reportedly caused major damage to the building and killed or injured an undisclosed number of people.
Live footage shows the blast site with pools of blood and piles of debris.
The blasts follow a string of bombings in and around the capital, Damascus. Earlier today, at least two people were killed and several others injured in a bomb attack in the city of Jaramana, about 10 kilometers (six miles) southeast of Damascus.
Reports said two blasts also hit al-Hamidiyeh area in Damascus near the Justice Palace.
On December 10, the UK newspaper Independent reported that the United States and Britain had decided to provide military assistance to the militants fighting the Syrian government.
The head of the British Armed Forces, General David Richards, held a secret meeting in London a few weeks ago with military officials from France, Turkey, Qatar, Jordan, and the United Arab Emirates as well as an American general, the paper said.
The New York Times reported on November 28 that the US administration "is considering deeper intervention to help push [Syrian] President Bashar al-Assad from power."
The Syrian government says a very large number of the militants operating in Syria are foreign nationals.
Syria has been the scene of unrest since March 2011. Many people, including large numbers of army and security personnel, have been killed in the turmoil.