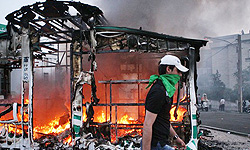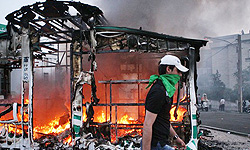 A fact-finding committee set up by the Iranian parliament to study the recent frenzy in Tehran revealed in its final report on Wednesday that Israel has played a direct role in stirring unrests in the Iranian capital with Israeli officials admitting to their role and backup for the February 14 unrests.
One of the Zionist experts in an essay in Israel's Foreign Ministry website has even acknowledged that the February 14 demonstration had an Israeli origin," the report compiled by the parliament's Article 90 Commission said.
The report also said that the new Mossad chief, Tamir Pardo, said later that Israel's main goal is waging a cold war against Iran and its nuclear program.
"Since several years ago Mossad has entered a dangerous clandestine war against Iran's nuclear program both in terms of human resources and technology," added the report.
The Iranian government earlier announced that it has clear evidence proving western countries' role in supporting some opposition leaders through links and connections with their close aides and family members.
In January Iran's Intelligence Ministry arrested 10 Israeli spies and disbanded several spying networks after it infiltrated the Zionist regime's intelligence system and IT networks.
"We arrested 10 spies during the recent operation for identifying a Mossad network, who are all Iranian," Iranian Intelligence Minister Heidar Moslehi said in January.
During the operations, the Intelligence Ministry could arrest the terrorists behind the assassination of a well-known Iranian nuclear scientist in 2010.
Moslehi in his further remarks to reporters in January said that Iran enjoys a proper security status despite enemies' threats and despite the costs enemies make to spark insecurity inside the country.