World News
Fascists burned people alive in Odessa: Report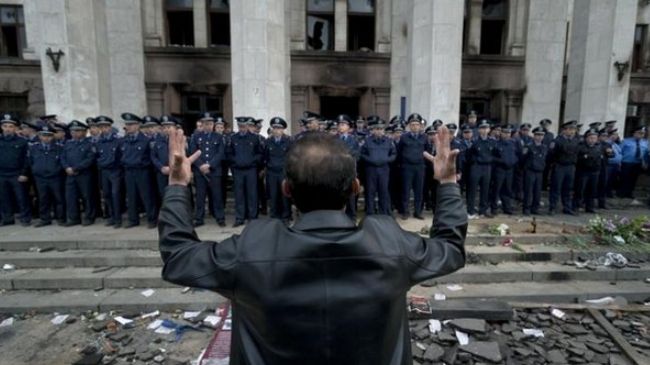 Russia's State Duma Foreign Affairs Committee has pictures of fascist fighters burning pro-Russian protesters alive in Ukraine's volatile city of Odessa, the Duma committee chief says.
Alexei Pushkov told a Duma meeting on Tuesday that the photos have been sent to the Luxembourg-based Parliamentary Assembly of the Council of Europe (PACE) for assessment.
"We have recently sent all pictures of burnt, strangled, beaten, shot, tortured, and assaulted people in the House of Unions in Odessa [on May 2] to PACE," he said.
Pushkov said the PACE chairman has already made "incoherent and anti-Russian statements" about the "mass burning" of people in Odessa, adding that the PACE has remained "shamefully silent" on the accident.
"Is this the democracy the Western world proposes for Ukraine or is this something else?" Pushkov asked. "I think this is absolutely unacceptable and we will talk about this in all international and domestic arenas."
He said that sanctions must be imposed against authorities in Kiev and not against Russia.
On May 2, nearly 70 people were killed and hundreds of others injured after the Ukrainian forces launched a military operation against pro-Russia protesters who are in control of several eastern cities. Forty of the victims died in Odessa.
Moscow has censured Kiev over the deadly incident in Odessa, saying it was "another manifestation of the criminal irresponsibility of the Kiev authorities."
Russian Foreign Minister Sergei Lavrov on May 4 urged the United States to use its influence to make Ukraine's interim government immediately stop military operations in the southeast.