Palestine
Fate of Gaza-bound activists unknown: Estelle flotilla spokesperson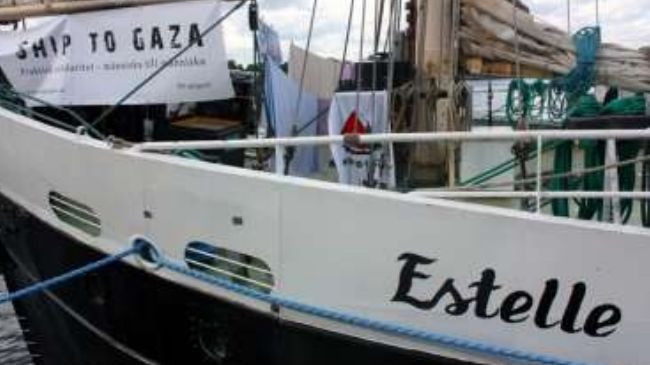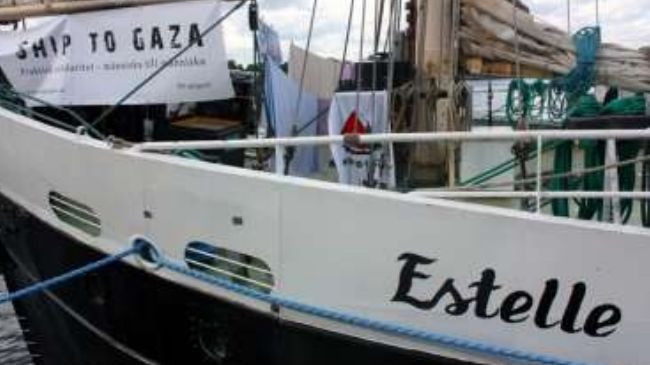 A pro-Palestinian peace activist tells Press TV that the fate of the pro-Palestinian peace activists nabbed by the Israeli regime's military during the forces' raid on the Gaza-bound flotilla is still unknown as they cut off all the communications to prevent any news from leaking to the world.
The Zionist regime's military again cut off all the communications before they attacked the Gaza-bound Estelle flotilla to prevent the world from hearing about the atrocities it was committing against the pro-Palestinian activists.
The Israeli navy forces have attacked and boarded a ship en route to Gaza strip, carrying aid and pro-Palestinian activists who were trying to break Israel's maritime blockade against the region.
The Finnish-flagged Estelle, which left Naples on 7 October with some 20 people of eight different nationalities aboard, was seized by the Israeli forces and taken to the port of Ashdod on Saturday.
The Estelle, reportedly carrying a cargo including cement and medical supplies, was boarded 30 nautical miles off the coast of Gaza, activists said.
Estelle is not the first Gaza-bound aid ship to be brutally attacked by the Zionist military in international waters. In 2010 the Israeli military attacked the Gaza-bound humanitarian Freedom Flotilla in international waters in the Mediterranean Sea, killing nine Turkish nationals aboard Turkey's Mavi Marmara and injuring about 50 other activists who were part of the six-ship convoy.
Also in November 2011, a Canadian and an Irish yacht were prevented by Israeli forces in the international waters from transporting pro-Palestinian activists and medical supplies to Gaza.
According to activist David Heap, dignitaries from Canada, Sweden, Norway, Spain and Greece were on board Estelle when it was forcibly boarded by the Israeli military.
Press TV has interviewed Mr. David Heap, spokesperson for the Canadian Gaza-bound flotilla from Gaza about the international incident. The interview begins two minutes and 40 seconds into the video clip.
What follows is an approximate transcript of the interview.
Press TV: I have been told that you have been given information and you know about what happened to the Gaza-bound ship Estelle, which was heading to Gaza. Tell us about reports that some of the activists there, we're hearing, could have been taken away or detained by Israeli forces.
What do you know about the fate of those on board the ship?
Heap: The last information we have was when they were being boarded; from that point all our communications were cut off.
As always – as was our experience last year – when the Israeli military makes these moves they always cut off communications so that the world is unable to witness what they're doing. This was our experience last year – I was on The Tahrir sailing. We were stopped at 45 nautical miles and we had lost communications at that point as well.
We are very concerned about all of our friends and shipmates on board. There was a Canadian parliamentarian on board as well as parliamentarians from several European countries and volunteers from many countries as well and we are very concerned about all of them particularly because we don't have news of what has become of them.
Press TV: So it's not yet certain basically whether all those who were on board the ship are still on the ship or have been taken away, right?
Heap: No we don't have confirmation. It's most likely that they will have been taken with the ship to [Port of] Ashdod in Israel if it fits the pattern of the last year and the year before.
Press TV: So can you say for certain now that the ship is not going to be able to reach Gaza?
Heap: That's what appears to be the case now, yes. This wave will not arrive, but our coalition continues to sail whether we sail to Gaza or next year we sail from Gaza with Gaza's ark, we continue to sail. Our destination remains the same, of course for the conscience of humanity.
Press TV: Of course as you say this is not the first time that this is happening, you say that members of parliament from Canada and elsewhere are on board that ship. Is this something that they had been predicting or they had been preparing for?
Heap:
They have been prepared for anything that might happen, You know, non-violence preparation is always a part of training of the crew and the delegates on board so the Canadian member of parliament and the current members of parliament from Sweden, Norway, Spain and Greece and all the other volunteers and all the other crew members on board all received non-violence training because we have an idea of the way that Israel has been responding to this since 2009.
Of course in 2009 it was fine for boats to go through and there was no threat to anybody's security, but since 2009 they have stopped boats.
We have an idea of what they might be facing and they were very well prepared on our side. We have no concerns about how our people reacted, we have only concerns about the irresponsible and unaccountable actions of the Israeli military.
Press TV: So are you going to ask your respective government as well as those other governments whose citizens are on board that ship to do something about this, to call on Israel to release them or any other kind of action?
Heap: Well, our governments should be protesting this attack not just because of our citizens are on board but because this is yet another case where the Palestinians of Gaza are denied the freedom of movement.