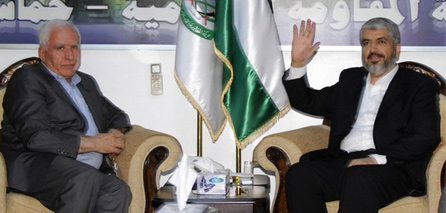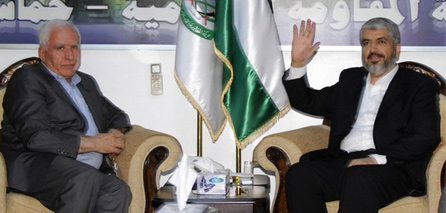 Officials of the rival Fateh and Hamas movement ended their meeting in Damascus late on Tuesday at night without declaring the outcome of the talks, but announced that they will be holding another meeting on Wednesday.
Hamas movement was represented by Dr. Mousa Abu Marzouq, Mohammad Nassr, Ismail Al Ashqar and Saleh Al Aroury, while Azzam Al Ahmad, Sakher Bseiso, Majed Faraj and Samir Al Rifaey represented Fateh.
The atmosphere of Tuesday's session was described as positive, yet the security file seems to remain one of the main obstacles.
The upcoming meeting will focus on reforming the Palestinian Security Forces, security policies, and the Higher Security Committee.
Another issue of interest is the issue of political prisoners detained by Fateh in the West Bank and the means to ensure their release.
Referring to Israeli threats of not recognizing any unity agreement or arrangement that includes Hamas and some other factions, Hamas said that Fateh movement must decide to be independent, and should not allow Israel to interfere in internal Palestinian politics.