Human Rights
Middle East
North America
Saudi Arabia
FBI warned Saudi dissidents of threat to their lives after Khashoggi murder: Report
The FBI has reportedly approached US-based Saudi dissidents and others connected to Jamal Khashoggi to warn them of a potential threat to their lives after the Riyadh-sponsored murder of the prominent journalist.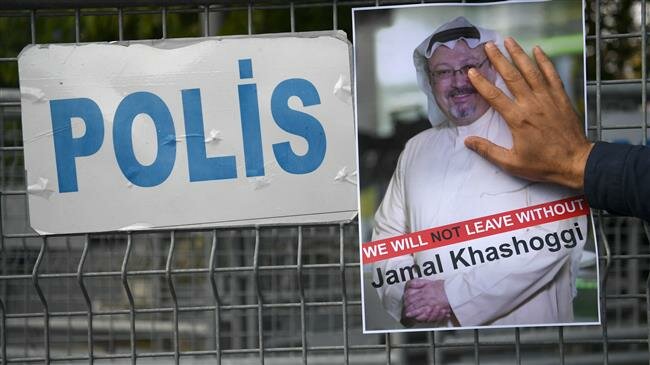 Speaking on condition of anonymity, at least four Saudis and an Arab dissident in the US told the Middle East Eye (MEE) news portal on Friday that they had received visits by FBI agents following the killing of Khashogg by a Saudi hit inside the kingdom's consulate in Istanbul, Turkey, on October 2, 2018.
Some of them said the agents had tried to calm them and called first and then meeting in a public location near their home.
"They (FBI agents) were like, 'Yep, we are worried about your safety. Your name has been flagged here in certain circles and in Europe'," said the Arab activist, who had been working with Khashoggi.
He said that the agents had told him that they were sorry about the murder of Khashoggi and that they were "doing everything we can to get to the bottom of it."
One of the Saudi dissidents, who met with the FBI agents in early November, said, "I told them that I'm kind of afraid to deal with you guys because the current government has worked closely with [Crown Prince] Mohammed bin Salman and the Saudi government."
"They said, 'Don't worry. We are here to protect people from everywhere. It doesn't matter who is in the White House," he added.
The dissident also noted he had grown wary when the agents suggested that he could help the FBI in return, if he chose to do so, for assistance with his asylum case.
Another Arab dissident said that he had been asked if agents could visit him again and replied, "'If it's just for a chat or something, I'm not available.' I didn't want to have a regular thing with him."
Meanwhile, an FBI spokesperson claimed in an email sent to the MEE that the agency "regularly interacts with members of the communities we serve to build mutual trust around protecting the American public".
Back in May, The Time reported that the CIA and foreign security services had sent warnings to at least 3 Khashoggi associates in Norway, Canada and the US that their continuation of pro-democracy work has made them targets of potential retaliation from Saudi Arabia.
CIA warns of more Khashoggi-style killings by Saudi agentsThe CIA and foreign security services have warned friends and colleagues of Jamal Khashoggi about new threats from Saudi Arabia. 
Prominent human rights activist Iyad el-Baghdadi, who lives in political asylum in Oslo, was one of those who had been approached by the CIA.
He told the MEE that the US intelligence agencies' attempts to stop potential Saudi activity show their level of concern.
"They know that MBS is deeply problematic and a terrible ally, an ally who threatened people on your own territory for God's sakes. What kind of ally does this?" he said referring to Mohammed bin Salman.
"In the end, what does it say that they are unable to convince the guy in the White House that this is a problem? It tells us that US intelligence agencies completely know that this guy is trouble and that the only reason he can continue to do this is [Trump's son-in-law and law and senior adviser] Jared Kushner and Donald Trump."
Last month, Agnes Callamard, the UN special rapporteur on extrajudicial, summary, or arbitrary executions, presented findings of her six-month investigation into Khashoggi's murder case.
'Saudi crown prince liable for Khashoggi murder'A UN rights investigator says there is "credible evidence" linking Saudi Arabia's crown prince to the killing of Saudi journalist Jamal Khashoggi last October.
In her 101-page report, she said that there is "sufficient credible evidence" indicating that the Saudi crown prince bears responsibility for the murder, and that he should be investigated for the murder.
Recently, she criticized the United States for inaction over Khashoggi's case.