North America
Ferguson protesters begin targeting Black Friday sales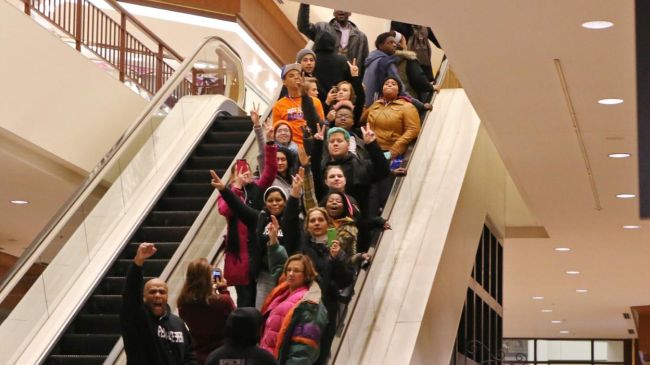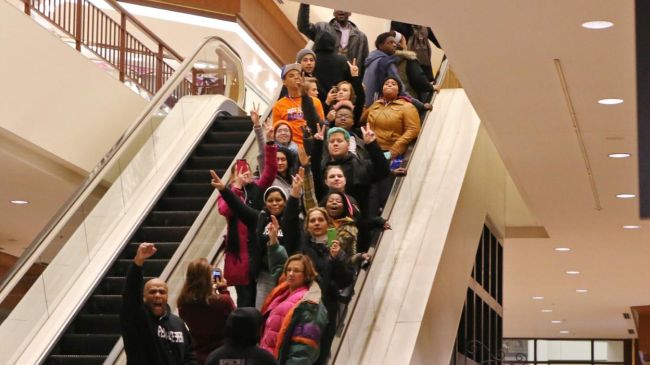 US protesters angry at a grand jury's failure to indict a white police officer in the killing of a black teenager have begun targeting Black Friday sales at major retailers in Missouri.
The demonstrators started their latest strategy on Thursday night to vent their anger at the grand jury decision at major retail stores in the St. Louis area, with dozens of protesters interrupting holiday shoppers.
The protests began on Thanksgiving night and continued early on Friday. Protesters spent a few minutes at each store, shouting slogans against police brutality and racial discrimination. More protests were planned for Friday.
On Monday, St. Louis County prosecutor Robert McCulloch said that Darren Wilson would not be indicted and that he would not even face charges for killing the 18-year-old Michael Brown on August 9 in Ferguson.
Following the decision, violent protests against racial discrimination and police brutality in the United States broke out in dozens of cities and towns across the country.
"We are bruised but not broken," Cathy Daniels, a female demonstrator said late on Thursday in Ferguson. "We are regrouping. We are not going to take this lying down."
Missouri Governor Jay Nixon has declared a state of emergency and deployed thousands of National Guard troops to the Ferguson area to quell violence.
Brown's death sparked weeks of protests in Ferguson and further fueled racial tensions between the majority-black Ferguson community and the majority-white city government and police.