American Awakening
Awakening
Human Rights
North America
World News
Fifth Night of Protests in US: Curfews Imposed, National Guard Called in
Protests over death of George Floyd, an unarmed black man who was killed by US police, continued for a fifth night on Saturday with violence and raging fires in several cities across the United States as law enforcement has been enhanced from coast to coast; from big cities to small towns.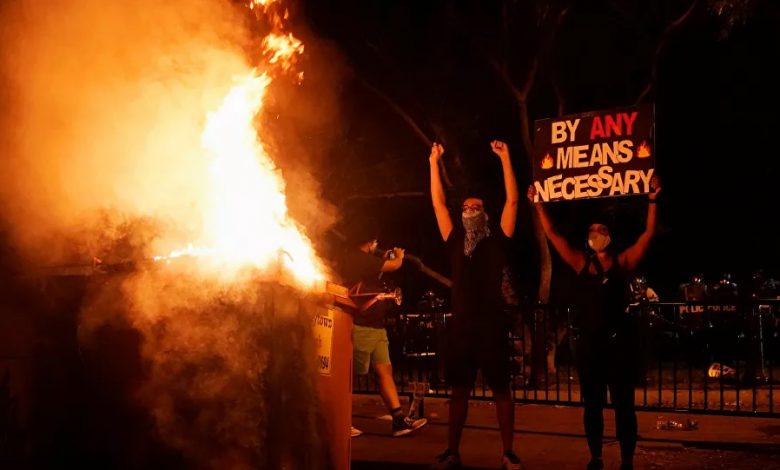 As Saturday night went on, sporadic violence was seen in many US states again, with stores torched, windows smashed, police cars set on fire, protesters injured and detained, as some complained about the police disproportionately getting tough with protesters and people.
In a fresh development, authorities resorted to tear gas and even rubber bullets to disperse the demonstrators, with curfews enacted in several major cities, including Atlanta, Chicago, Louisville, Denver, Miami, and Milwaukee.
The protests swept across at least 30 states, while in Washington, D.C. protesters clashed with the Secret Service after tearing through a fence. Near Union Square in Manhattan, a police vehicle was set on fire, sending plumes of black smoke into the air, while in Los Angeles a police post was burned in a shopping mall, with nearby shops looted.
In Nashville, Tennessee, a historic courthouse was set alight and in Salt Lake City, Utah, vehicles were burned in various places.
In Chicago, Illinois, demonstrators swarmed Trump Tower, while in Philadelphia, Pennsylvania, protesters broke into a store near City Hall and set a fire inside, attempted to tear down the statue of a former mayor, and ignored an 8 p.m. curfew.