World News
Filipino protesters burn US flag, urge Marine arrest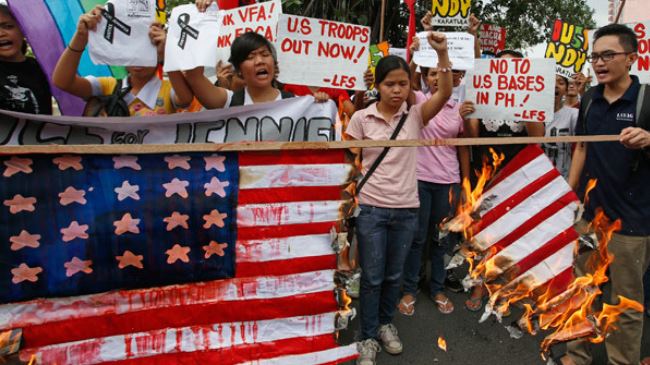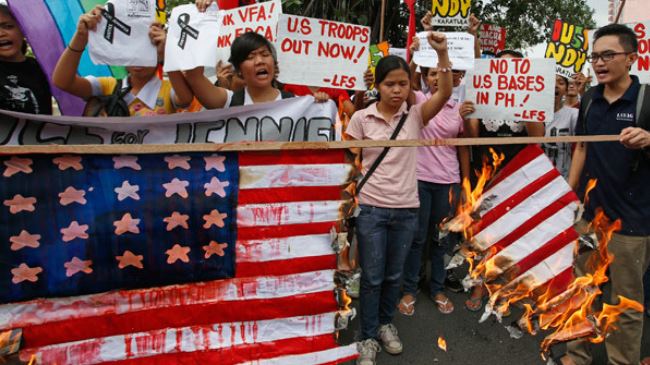 Activists in the Philippines rallied outside the US embassy in the capital, Manila, and burnt US flag to express their anger over the killing of a woman by a US Marine.
On Tuesday, the demonstrators demanded that Washington hand over the Marine who allegedly strangled a 26-year-old woman in a motel room.
Jennifer Laude, a 26-year-old transgender also known as Jeffrey, was last seen entering the Celzone Lodge in Olongapo City with a short-haired male foreigner, aged 25-30, on Saturday night. Later, Laude's body was found in a bathroom at the hotel, apparently strangled and drowned.
Philippine police, with the help of a key witness, have identified the Marine as Private First Class Scott Pemberton. He will soon be formally charged with murder.
Authorities will file a murder complaint against the Marine on Wednesday, national police spokesman Wilben Mayor said.
"If he remains in US custody, certainly he can escape from our justice system again. We don't want another Daniel Smith," activist Corky Hope Maranan said, in reference to another US Marine in the Philippines who was convicted with raping a Filipino woman in 2005. He was able to leave the country in 2009 after a Filipino appeals court overturned Smith's conviction.
The protesters also demanded all US troops leave the Philippines.
About 3,000 US troops are to leave the Philippines after two weeks of military exercises with Filipino forces.
The 11-day annual military exercise dubbed "Phiblex" began on September 29.