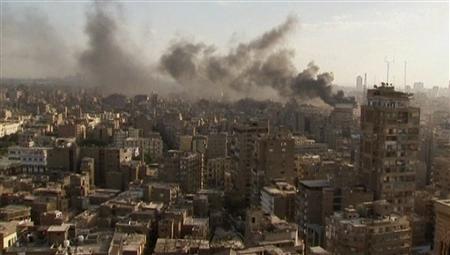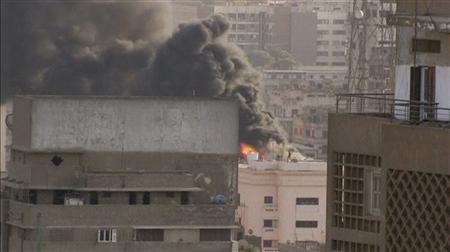 Fire tore through an Egyptian Interior Ministry building in central Cairo on Tuesday as a ministry source said it was probably linked to a protest by police demanding the minister's resignation.
Ambulances and at least five fire engines raced to the scene of the blaze, which appeared to have ripped through all seven stores of the building, part of an Interior Ministry compound in central Cairo.
It was not immediately clear if there were any casualties.
The military had earlier cordoned off the building to protect it from the police protesters, the state news agency reported. The protesters numbered about 3,000, witnesses said.
The demonstrators' demands included better pay and conditions. Since President Hosni Mubarak was toppled, policemen have staged strikes and protests to press similar demands.
Interior Minister Mansour el-Essawy was appointed as part of a cabinet reshuffle that purged remaining members Mubarak's administration. Essawy met representatives of the protesters and promised to work to resolve their demands, the state news agency reported.
"It is likely to be related to the protests, but it is not the building of the ministry itself that is on fire," an Interior Ministry source told Reuters, as flames and a column of black smoke billowed up over the center of the city. The source did not elaborate.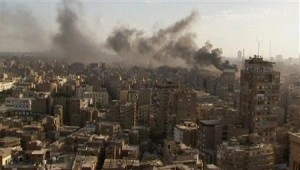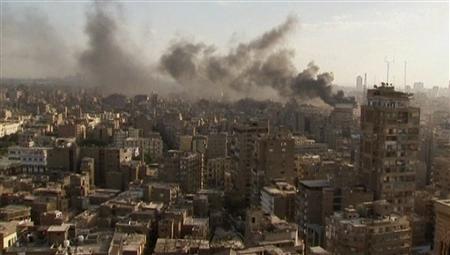 Since Essawy's appointment, the ministry has announced the dissolution of the hated state security agency, whose reputation for brutality helped ignite the revolt against Mubarak.