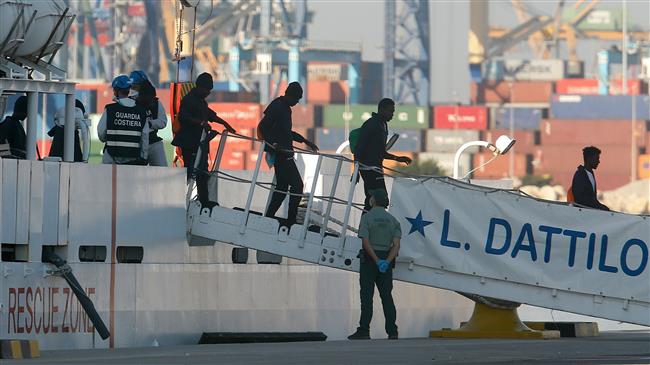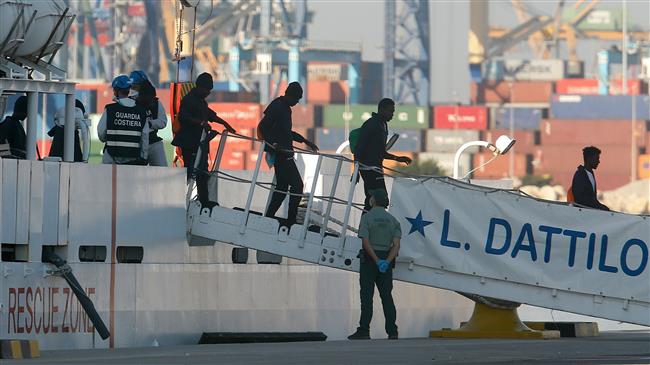 The first group of the refugees who were rescued by a charity vessel but were turned away by Italy and Malta has arrived in Spain.
The refugees disembarked in the Spanish port of Valencia just before 6:30 am (0430 GMT) on Sunday from the Italian coast guard ship Dattilo, which is one of two Italian vessels that took some of the 630 passengers who had been on board the charity vessel Aquarius before escorting it to Spain.
The others will arrive on another Italian navy ship, the Orione, and the Aquarius itself by noon, regional authorities said.
A huge banner was put up at the port that read "Welcome home" in various languages.
The refugees comprise 450 adult males and 80 females — including at least seven pregnant women — as well as 11 minors under 13 and 89 adolescents, according to figures released by authorities in Valencia.
They come from 26 countries, mainly from Africa but also from Afghanistan, Bangladesh, and Pakistan.
Italy's new Interior Minister and leader of the far-right League Party Matteo Salvini closed Italian ports to Aquarius last week. He also sent a letter to the island-state of Malta, south of Italy, threatening to close all Italian ports to Malta if the Maltese government refused to take the ship, which Malta did anyway.
As a result, the refugees were stranded in international waters between the two countries with diminishing food and drink supplies and incoming bad weather.
Spain finally stepped forward to accept the refugees.
'France to take in some of the refugees'
Meanwhile, Spain said on Saturday that it had accepted an offer from France to take in some of the 630 refugees from the Aquarius rescue ship.
"The French government will work together with the Spanish government to handle the arrival of the migrants," Spain's Deputy Prime Minister Carmen Calvo said in a statement. "France will accept migrants who express the wish to go there" once they have been processed in Valencia.
Spanish Prime Minister Pedro Sanchez thanked French President Emmanuel Macron for the offer, saying it was "exactly the kind of cooperation Europe needs" at this hour.
The dispute between Italy and Malta had laid bare rare disunity among European countries. France rebuked Italy for "irresponsibility" by refusing to take in the refugees. Rome hit back hard at Paris, saying it needed no lessons from France.
Europe has launched a string of schemes to tackle its worst refugee crisis since World War II. The continent has been hit since 2014 by an unprecedented influx of refugees who are fleeing conflict-ridden zones in North Africa and the Middle East, in particular Syria.
Thousands of asylum seekers have perished at sea.