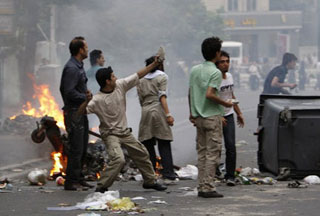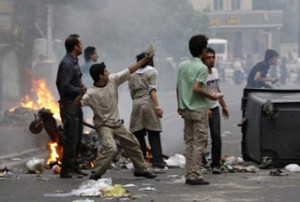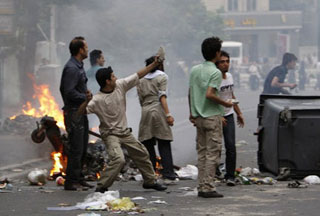 ü
Iran's Judiciary has announced that the trial of the first group of 'rioters' who had provoked post-election unrest in the country will begin on Saturday.
Tehran's Public Prosecutor Office declared in a statement on Wednesday that the first court session to prosecute the suspects will be held on August 1, 2009, IRNA reported.
The statement also blasted the US and Britain over their stance towards Iran's presidential election and "their interference in Iran's internal affairs which was aimed at plunging the country in post-election chaos."
The office also hailed efforts made by Iran's security forces and the Basij volunteers who managed to "arrest the rioters and end the unrest".
The statement said that a number of suspects were identified by their photos taken during street unrests, and thanked the Iranian nation for help in identifying them. "People's help will lead to identification of more rioters in the near future," it promised.
Ten charges were listed, including attacking military centers with weapons and fire-bombs and attacking security forces; damaging public and private properties, distributing pamphlets against the system of the Islamic Republic; relations with anti-Iranian terrorist groups such as the Mujahedeen Khalq Organization (MKO); and preparing reports for the foreign media and the enemies.
Following Iran's 10th presidential election on June 12, supporters of opposition candidates took to the streets in protest against what they described as massive "ballot rigging" and the officially-announced results that gave the incumbent Iranian President Mahmoud Ahmadinejad another term in office.