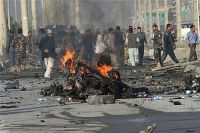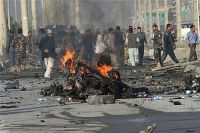 At least five people have been killed and nearly 20 others injured in a bomb explosion in Afghanistan's southern province of Helmand.
The explosion took place at about 11 a.m. local time on Wednesday, in Helmand's Lashkar Gah city.
The provincial security chief, Haji Wais Amiri, said the blast went off near the residence of Nawzad district's former police chief, adding, that the attack left 19 others injured.
Reports say the majority of the victims were civilians, while a number of those killed or injured were police officers.
According to the security chief, a Vehicle Borne Improvised Explosive Device (VBIED) was used in the attack.
No group has claimed responsibility for the incident yet, but Taliban militants are frequently blamed for such attacks in the country.