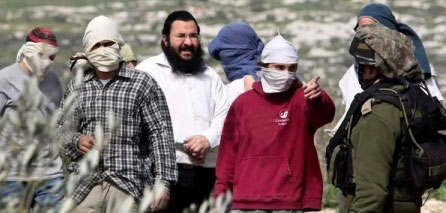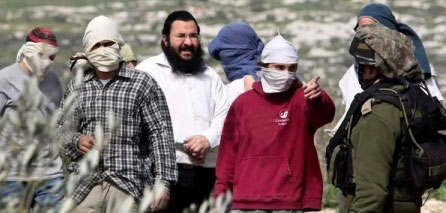 The Popular Committee Against the Wall and Settlements in Al Khalil, in the southern part of the occupied West Bank, has reported that five Palestinians have been wounded during clashes with extremist Israeli settlers, while Israeli soldiers kidnapped five more Palestinians.
Coordinator of the Popular Committee, Rateb Jabour, stated that a scuffle took place between members of a Palestinian family and a group of settlers in Um Al-A'rayes area, as the family protested in its land that, illegally occupied by extremist settlers.
Jabour added that the settlers are still illegally occupying the 120 Dunams (29.65 Acres) despite the fact that an Israeli court decided to give back the land to its Palestinian owners and to compensate the residents for their losses.
The settlers rejected the ruling and remained in the area while the army did not attempt to remove them.
They initially started insulting the family before pushing them around, an issue that led to a scuffle causing the injury of five residents who suffered minor cuts and bruises.
Israeli soldiers then kidnapped five family members identified as Sa'id Oleyyan Awad, 35, Samira Oleyyan Awad, 23, Mohammad Tawfig Oleyyan Awad, Hammad Ibrahim Oleyyan Awad, and another women who remained unidentified.
The kidnapped were moved to the Keryat Arba' settlement, east of Al Khalil; none of the settlers was held up by the soldiers.
In a related news, Israeli soldiers attacked on Friday [November 22 2013] nonviolent Palestinian protesters at the Kabsa Junction, between the Al-Ezariyya, Abu Dis and Al-Eesawiyya towns, in occupied Jerusalem, and fired at them leading to several injuries.