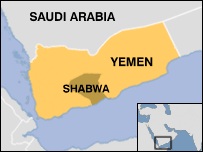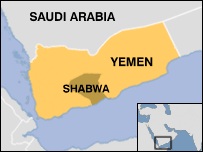 An attack by "Al-Qaeda elements" at a gas terminal in Yemen killed five soldiers on Sunday, and left three others injured, a military source said, as Washington kept its embassy in Sanaa closed.
"The attackers arrived in a car at the army checkpoint near the Balhaf terminal. They opened fire with automatic weapons, killing five soldiers before fleeing," the source told media outlets on condition of anonymity.
The soldiers belonged to an army unit responsible for security at the Balhaf terminal in Yemen's Shabwa province, part of which is run by French company Total.
The terminal, through which the bulk of Yemen's gas exports pass, was not among the reported targets of a large-scale Al-Qaeda plot that Yemeni authorities say they foiled in recent days.
But a government spokesman said that pipelines leading to the terminal were among the targets.
Al-Qaeda also plotted to assault the Canadian-run Mina al-Dhaba oil terminal in Hadramawt province further east and take staff hostage, including Western expatriates. A nearby export facility for oil derivatives was also targeted.
Sunday's attack follows a wave of US drone strikes against suspected Al-Qaeda militants in Yemen that has killed 38 people since July 28.
The latest strike hit late on Saturday north of the port city of Aden, killing two people and wounding one.
Both Washington and London pulled out diplomatic personnel from Sanaa on Tuesday, citing intelligence reports of an imminent attack carried out by Al-Qaeda in the Arabian Peninsula.
The United States said on Friday that all of the embassies it shut would reopen this week, except the mission in Yemen.
State Department spokeswoman Jen Psaki said Washington would also keep its consulate in the Pakistani city of Lahore closed, after pulling out staff on Thursday