World News
Flash floods kill at least 2 in Colorado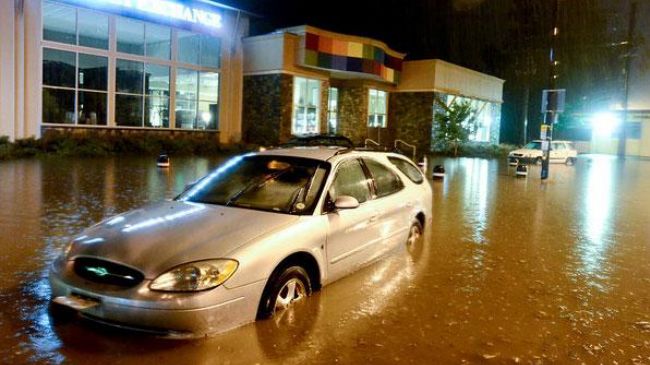 Severe flash flood in the Boulder, Colo., area early Thursday swept motorists from roadways, stranded cars, destroyed at least one dam and killed at least two people, according to local media.
KUSA-TV reports that one person was killed in the collapse of a home in Nederland.
Colorado Springs police officers found a second victim early Thursday while patrolling in a flood area west of the city.
Police scanners have also reported numerous cars caught in high water in the Boulder area. One officer told dispatchers about "banging inside the cars" as passengers sought help getting out.
Another reported a car submerged upside down, with at least one person missing.
One firefighter was reported to be stuck in a tree in Lefthand Canyon in Boulder County after a "wall of water" 15 to 20 feet high roared through the canyon, according to the Boulder County sheriff's office. Officers on scene requested a dive team to help with the rescue, but none was immediately available locally.
"We have a lot of boat, but not divers," one officer told the radio dispatcher.
Boulder Office of Emergency Management spokeswoman Gabrielle Boerkircher said volunteers are trying to help stranded people until emergency crews can arrive because many roads are impassable.
Coal Creek Canyon northwest of Denver was closed because of a washed-out highway.
The Larimer County office of emergency information said an earthen dam in the Big Elk Meadows area southeast of Estes Park gave way and residents of Pinewood Springs and Blue Mountain were ordered to be ready to evacuate.
Residents of the Big Elk Meadows area were told by a recorded message they "should be seeking higher ground immediately."
The National Weather Service, citing Boulder officials, said multiple homes in the area have collapsed and urged people in the area to move to higher ground.
The NWS issued a flash flood warning for Northern Jefferson and Boulder counties, saying that in many locations this is an "extremely dangerous and life threatening situation."
The Weather Service said early Thursday that more than four inches of rain had fallen in some areas since noon Wednesday.
Meanwhile, about 400 students at the University of Colorado housing in Boulder were evacuated and classes canceled Thursday because of the flooding, Boekircher said.