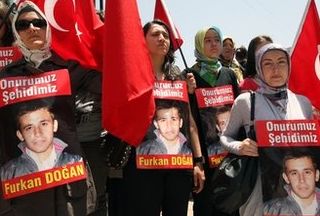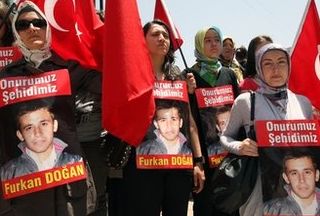 Most Turkish activists killed on the Gaza Freedom Flotilla aid convoy by Israeli forces last month had been shot multiple times, a new report reveals.
The forensic report indicated on Tuesday that seven out of nine Turks were shot more than once, AFP reported.
"The findings make it clear the Israeli forces shot to kill the activists and not to overpower them," said Yasin Divrak one of the lawyers for the victims' families.
The May 31 brutal attack against the convoy, which was carrying thousands of tons of supplies for the besieged people of Gaza, left nine activists dead and dozens of others injured.
The 19-year-old Turkish-US national Furkan Dogan, who was the youngest victim, was shot five times, including twice in the head, according to the report.
A bullet that pierced his face was fired from close range, it said, adding he was also hit in the back of the head.
All bodies had been washed before being brought to Turkey and their clothes were either blood-soaked or otherwise unfit for analysis, making it impossible to reach a conclusion on the ranges of most shots, the documents showed.
Israel came under international criticism after its commandoes stormed the Turkish-led aid convoy in international waters.