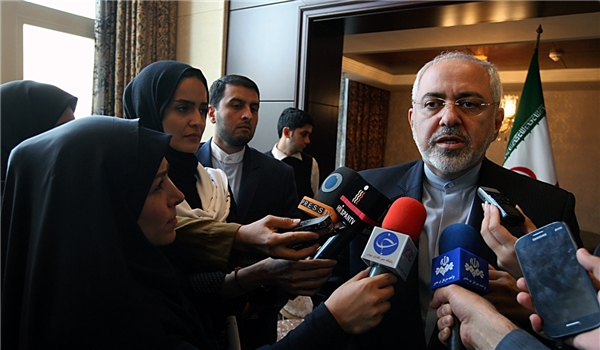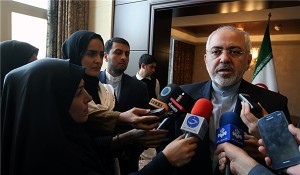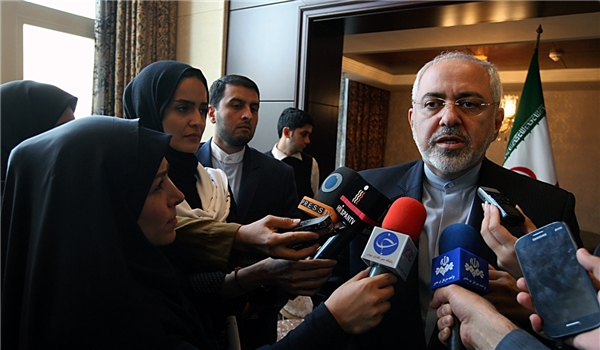 Iranian Foreign Minister Mohammad Javad Zarif renewed Tehran's support for the Iraqi people's fight against terrorism.
"The Islamic Republic of Iran has always stood and will stand beside the Iraqi people (in their campaign against terrorism)," Zarif told reporters upon arrival in Iraq on Sunday.
He said the Iraqi people have felt the serious threat of terrorist groups to their country, adding that the nation sees this threat not "as a sectarian strife among different tribes or religious groups but as a major danger to all Iraqi people which needs to be confronted by all".
Zarif expressed the pleasure that the wave of terrorist attacks has been controlled in Iraq by the help of religious leaders, and said, "We hope that this danger will be obviated with solidarity and coordination among all Iraqi groups, and that peace and tranquility will return to Iraq again."
The Iranian top diplomat arrived in Iraq on Sunday to meet with the Muslim neighboring nation's new cabinet and Prime Minister.
During the visit, Zarif is due to meet Iraq's new Prime Minister Haider al-Abadi and foreign minister to felicitate the newly-appointed Baghdad officials on the formation of the new government and discuss bilateral and regional developments as well as the latest security conditions in Iraq.
Following a political row over the appointment of the new prime minister, President Fuad Masum asked al-Abadi almost ten days ago to form the new government.
Although Iran's first choice was the incumbent premier, Nouri Al-Maliki, it came to recognize al-Abadi as Iraq's new premier to end internal disputes among Iraq's parties. Several high-ranking Iranian officials congratulated him and the Iraqi nation on the appointment last week and expressed their support for the new government.
Leader of Islamic Ummah and Oppressed People Imam Seyed Ali Khamenei hailed the appointment of the new Iraqi premier, saying that enemies' plot to push Iraq into further chaos through political disputes over premiership would be foiled once the new cabinet starts work.
Following Iran's approach, Maliki also dropped his bid and voiced support for al-Abadi in a show of unity which is much needed in the crisis-hit country which has come under a surge of terrorist attacks by savage Takfiri terrorists of the Islamic State of Iraq and the Levant (ISIL) in the last few months.
Iran and Iraq have enjoyed growing ties ever since the overthrow of the former Iraqi dictator, Saddam Hussein, during the 2003 US invasion of the Muslim country.
Iraq's former Foreign Minister Houshyar Zebari was in Tehran in February. During his stay in the Iranian capital, Zebari and Zarif discussed mutual cooperation on economy and trade as well as joint efforts to address environmental issues.