Iran
Middle East
North America
Foreign Minister Zarif says never threaten an Iranian
Here is a pictorial recap of Iranian Foreign Minister Mohammad Javad Zarif's Sunday visit to a high school in Tehran to attend an event dubbed "My Mission," where students were asked to offer plans and proposals on how to thwart US unilateral sanctions against Iran.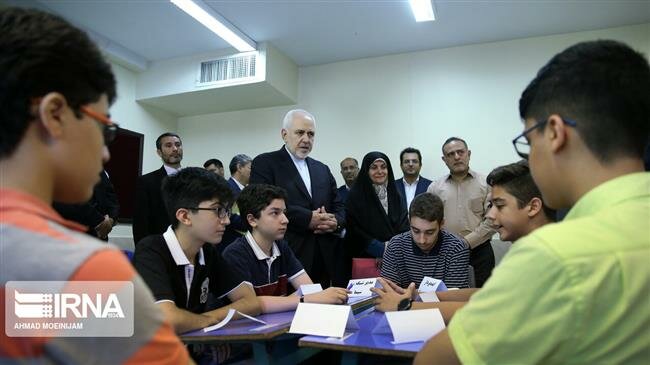 "My Mission" was the name of a school project conducted by 76 eighth-grade students with US sanctions and its unilateral withdrawal from Iran nuclear deal, officially known as the Joint Comprehensive Plan of Action (JCPOA), in focus.
Students worked in groups to find ways of countering the US sanctions on the basis of the realities on the ground.
After touring the high school, talking to students and inspecting their plans, Zarif said in a tweet that he was "in awe of these 8th graders, whose final exam was to play the role of Iran & major powers amid Iran-US diplomatic, economic, cultural, scientific & military row."
He added that the choices offered by the Iranian students on how to counter the US sanctions were proof enough why Washington "should #NeverThreatenAnIranian."
Addressing students and teachers, Zarif lauded the efforts made by the Iranian students and their innovative plans for counteracting the US sanctions, saying, "This is a good day in my life. What I saw was hope-inspiring and energizing that you, as builders of the country's future, think freely, look to the future, have self-confidence and are concerned about national and social issues of the country."
Zarif noted that the United States is no more in a position of power in the region and is in a weak position, because it has failed to achieve any of its goals in the region, adding, "Therefore, if they talk about [mounting] 'maximum pressure', [on Iran], it is out of frustration, not based on power."
Iran's top diplomat said, "The resistance of the Iranian people and people of the region has prevented the United States from achieving its goals and it was the people who did not want to give in to the United States' imposed policies."