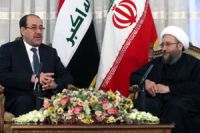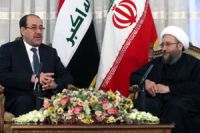 Iran's Judiciary Chief Ayatollah Sadeq Amoli Larijani says Iraq has the necessary potentials for development, warning that foreign plots against the country are aimed at hindering its stability and progress.
In a meeting with Iraq's Vice President Nouri al-Maliki in Tehran on Monday, Amoli Larijani added that terrorist groups such as ISIL have been formed in Iraq to obstruct the Muslim country's development.
He expressed hope that the Iraqi army and popular forces would succeed in fully defeating terrorists and Iraq would move toward progress as a prominent and independent country in the Middle East and the world.
The Iranian official further emphasized that enhanced Tehran-Baghdad relations would improve regional stability and reinforce solidarity among Muslim countries.
The Iraqi vice president, for his part, said the two sides are opening a new chapter in mutual relations based on good neighborliness and unity.
Maliki added that the Middle East presently needs concentrated efforts by all Muslim nations with the purpose of maintaining regional unity and stability.