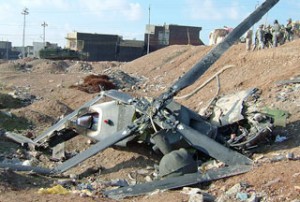 At least four American soldiers have been killed in a helicopter crash in southeastern Afghanistan which the Taliban claim to be behind shooting it down.
The fatal incident took place near the town of Qalat in Zabul province on Friday.
Afghan provincial officials have confirmed that the chopper went down in the province of Zabul. They say the helicopter crashed near a village 4 miles from the provincial capital, Qalat.
NATO, however, says the crash was caused by technical errors.
The US-led alliance is investigating the incident. This is the second NATO helicopter that has gone down in Zabul in the past two weeks.
There are currently over 120,000 foreign troops in Afghanistan, and the US and its NATO allies have announced the imminent deployment of 30,000 more troops.
This year the US-led troops have been suffering the highest fatality rates in Afghanistan since 2001.
Meanwhile, the US-led operations have been criticized by Afghan President Hamid Karzai and tribal elders due to the high numbers of civilian casualties. Locals say civilians often fall victim to military operations by US-led forces.