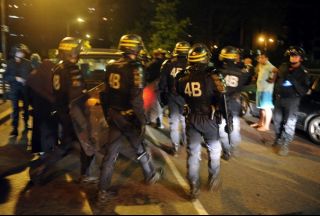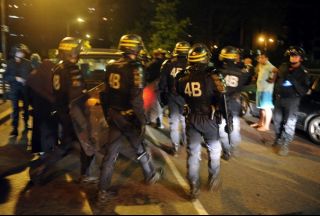 French police have arrested four more protesters following riots which erupted in Grenoble in protest at the killing of a 27-year-old man who allegedly robbed a casino.
The overnight turbulence began on Friday in the poor suburban neighborhood of Villeneuve after local residents took to the streets in hearing that police shot the young man dead while fleeing.
The confrontation led to protesters setting between 50 and 60 cars ablaze and exchanging fire with security forces but no one was injured, AFP reported. At least seven, however, were reportedly detained on Friday.
On Sunday morning, after two nights of unrest, police arrested another four, charging the attempted murder over allegations that they opened fire on police.
Police have not released the identified and the ages of those arrested.
After visiting the scene on Saturday Interior Minister Brice Hortefeux vowed to return order to the city of La Villeneuve.
"There's no future for hoodlums and delinquents because in the end the public authority always wins," AFP quoted Hortefeux as saying.
The latest clashes in the southern suburb come as earlier in 2005, France became a scene of civil unrest when security forces killed two teenagers as they were escaping.
Following the 2005 riots, the country has witnessed tensions particularly in industrial neighborhoods which house a growing number of workers and immigrants.