Europe
France hasn't learned from dark past: Religious intellectuals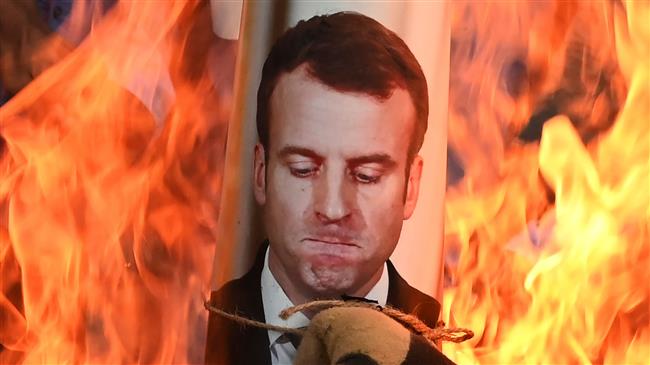 A group of international religious scholars and intellectuals strongly refute Emanuel Macron's claim that support for sacrilege amounts to protection of free speech, saying the French president's stance shows that his country is back on its decades-long abusive path.
"It seems that today France has not learned the necessary lessons from its own colonial history and once again is following the bitter and hateful paths in which new human tragedies can germinate," they said.
The remarks came in a letter addressed by the intellectuals on Wednesday to their fellow thinkers, scholars, experts, and religious authorities as well as the United Nations and its legal and human rights branches.
It concerned the French head of state's back-to-back insults over the past several months against Islam and Islamic sanctities that have outraged members of the roughly-two-billion-strong Muslim community worldwide.
In September, Macron defended the right to blasphemy in France after French satirical magazine Charlie Hebdo republished sacrilegious cartoons of Prophet Muhammad (PBUH). On October 2, he claimed in a speech that Islam was "in crisis globally" and announced his plan "to reform Islam" to supposedly make the faith more in line with French values.
Later, Macron supported a French teacher's displaying of cartoons insulting the Prophet in his class. "France will never renounce caricatures," Macron declared, defending the teacher for "promoting freedom."
The letter warned that "if any behavior leads to disrespect, discrimination, and hatred against human beings, whether under the pretext of advocacy of freedom or democracy or through bullying and dictatorial methods, such an act is against the freedom of human beings."
It then checked off a list of France's atrocities, including its massacres during its drawn-out colonial rule throughout the world, especially in Africa. "The French government is the last one to be entitled to lecture the world about the protection of human rights, freedom of expression and democracy" in light of its abysmal history, it added.
Today, too, Paris was following the same method and approach as shown by Macron's repeated acts of profanity against Islam and its Prophet, the letter regretted.
'A Eurocentric, egocentric state'
It also reminded that the country's tolerance of sacrilege against Islam strangely coincided with its strict punishment of similar or far less serious profanity against Jews and Judaism. This is while France's own laws advise clearly against double-standards in the area of religious freedom, the letter noted, denouncing Paris for advancing a "Eurocentric and egocentric" approach.