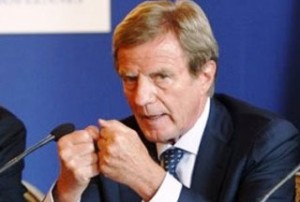 French Foreign Minister Bernard Kouchner says Paris is not seeking new sanctions against Tehran, believing they would escalate tensions in the region.
"We want to reduce tensions and avoid war, because the region is quite like a barrel of gunpowder," Kouchner told the Arabic al-Hayat daily in Beirut on Friday.
"[We] do not seek sanctions now, and if we did it would be of the same type, for example a ban on visas and business with [Iranian] financial and banking institutions," he added.
He also commented on the recent Vienna talks between Iranian, Russian, American and French diplomats and said by crossing Paris off the list of states that it could deal with directly, Tehran was trying "to sow division" between the six powers.
He added, however, that the six world powers, which also include Germany, China, and Britain, would not fall into such a "trap."
After the first session of the Vienna talks, Iran announced that it had removed France from the list of bidders on a deal to provide 20 percent-enriched uranium for the Tehran reactor, because of its failure to honor its past agreements with Iran.
Last month, the French nuclear reactor maker AREVA announced that it had not delivered any enriched uranium to Iran, although Tehran holds a 10-percent stake in the Eurodif nuclear plant, which makes it entitled to some of the plant's output.
However, French diplomats were eventually included in the talks after they formally apologized for their breach of agreement in the past, Press TV's correspondent to Vienna reported.