Europe
France posts bail to free detained lecturer in Iran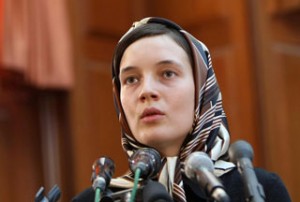 Iran says France has provided bail for the release of a French lecturer charged with carrying out anti-Islamic Republic activities in the course of the country's post-vote unrest.
Clotilde Reiss, who was working in Iran as a lecturer in the Isfahan Technical University, was detained on July 1 at the Imam Khomeini International Airport (IKIA) as she was about to leave the country.
The arrest of the French national came amidst turmoil in Iran where hundreds of thousands of people took to the streets in protest at the result of the 10th presidential election that named Mahmoud Ahmadinejad as the official victor with nearly two-thirds of the June 12 votes.
On July 8, she appeared at a court session, saying that she had written to the French embassy and about 50 friends or members of her family about Iran's nuclear program as well as the country's post-election developments, the official Islamic Republic News Agency (IRNA) reported.
During her court address, Reiss also apologized for taking part in "illegal protests" that erupted in Iran following the disputed vote.
"I should not have taken part in illegal protests… I regret (my activities)," the Frenchwoman said in the court Saturday.
Following the court session, Iran said "if the [French] government and ambassador promise" Reiss can stay in the French Embassy in Tehran until the end of the judicial process.
An unnamed government source in Iran told Press TV that the embassy has taken a step to free the detained French national.
"The French Embassy in Tehran has conveyed an official letter to Iran's Foreign Ministry accepting to provide bail and written guarantees asking for the release of Miss Clotilde Reiss," the unnamed official said on Wednesday.
The source added that Iran's judiciary will be informed of the matter to take necessary measures on the issue.