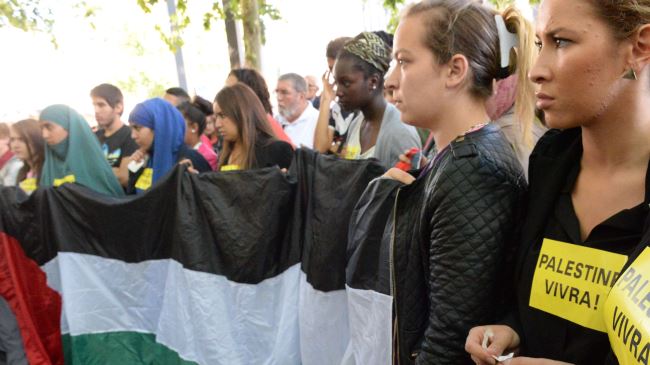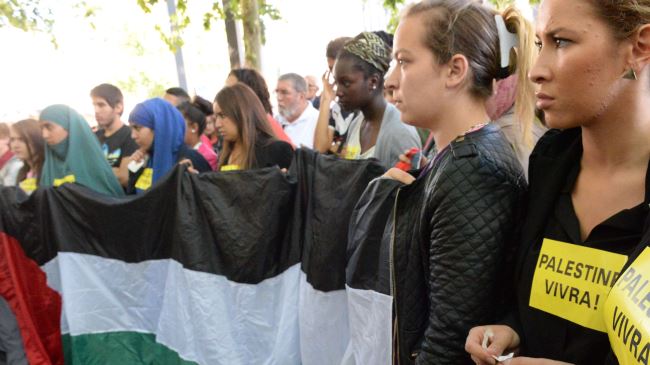 The French government has prosecuted a pro-Palestinian activist for disregarding the official ban on anti-Israel rallies during its recent offensive on the Gaza Strip, Press TV reports.
France has put the spokesperson of the New Anti-Capitalist Party on trial for his attempts to organize an "illegal demonstration" against the Israeli regime.
Meanwhile, several demonstrators held a rally on Wednesday to protest against the government's prosecution of the pro-Palestinian campaigner.
"To incriminate the spokesman of a political party who is also a strong supporter of unions… is totally unjustified and unacceptable. We would like to know why the government singled him out," said Patrick Picard, a member of the General Confederation of Labor (CGT).
France was heavily criticized by rights groups after it officially banned demonstrations against the Israeli regime's deadly attacks on the besieged Gaza Strip in summer. Thousands of people defied the French government's decision, saying it was a glaring breach of their constitutional basic right to demonstrate.
"This government made two decisions this summer: to support the extreme-right regime of Benjamin Netanyahu, which was in the process of massacring people in Gaza and then, … it tried to weaken the Palestinian solidarity movement here in France by claiming it was anti-Semitic and violent which we totally reject," stated the national secretary of Left Front Party (PG), Eric Coquerel.
The French government has recently intensified the trend of prosecuting social activists who disagree with the unpopular policies of President Francois Hollande.
Israel launched a 50-day war on the Gaza Strip in early July. About 2,140 Palestinians, mostly civilians, including women, children and elderly people, were killed in the Israeli onslaught. Around 11,000 others were injured.