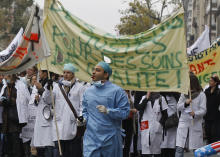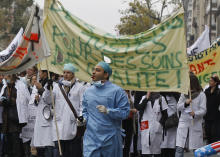 Hundreds of doctors have again demonstrated in Paris to protest working conditions and insufficient salaries as eurozone's second-largest economy continues to grapple with economic woes, Press TV reports.
The doctors, many wearing white lab coats and blue surgical caps, marched in the capital on Sunday in protest at government-initiated reforms in the medical sector.
For nearly a month, French doctors have been expressing discontent. The demonstration marked the second one in over two weeks. On November 12, thousands of doctors took to streets in the city to protest austerity cuts squeezing the health sector.
Previously, patients in France were free to choose their doctors and get full reimbursement by the national public insurance apparatus, called Social Security. However, the Social Security is now close to EUR 13 billion in debt.
The French government has also allowed private insurance companies to impose their choice of doctors on the patients.
"It is not normal that in a country boasting of liberty, equality, and fraternity, patients are being denied their right to choose their own doctors. They will have to see doctors dictated by insurance companies which would profit far above the healthcare," said Patrick Solerat with the Federation of Dentists' Union.
The French government hopes that EUR 30 billion of budget savings — comprising EUR 10 billion worth spending cuts and EUR 20 billion of tax breaks — will allow the government to meet its European commitments regarding deficit reduction.
Last month, France's central bank announced that it expected the country to slip into a recession at the end of the year.