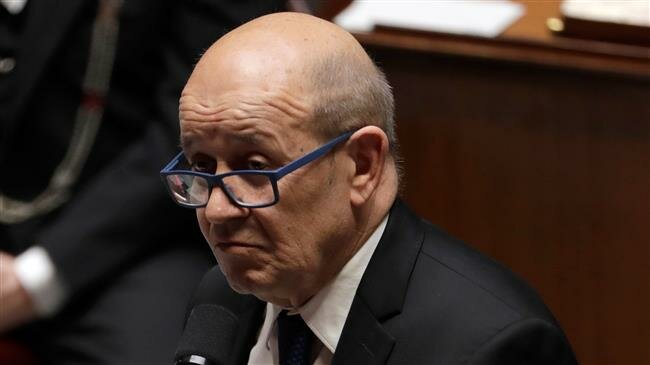 French Foreign Minister Jean-Yves Le Drian has warned against a bellicose spiral of reactions on an international agreement on Iran nuclear activities.
In an interview published online by Le Parisien on Saturday, Le Drian said it was a pity that the United States was not complying with the terms of the deal signed between Iran and six major global powers in 2015 in Vienna, admitting the move prompted Iran to retaliate by suspending parts of its commitments.
"It is a pity that the United States is not honoring its commitments," he said while stressing the "responsibility" of the Americans and the importance of dialogue with Tehran on the issue.
The comments came after Iran announced on Wednesday that it will halt implementing some terms of the nuclear deal, known as the Joint Comprehensive Plan of Action (JCPOA), until parties to the deal other than US take action to mitigate the negative impacts of US decision in May 2018 to withdraw from the agreement.
Iranian President Hassan Rouhani has set a two-month deadline for the parties to either do the necessary actions to save the JCPOA or face Iran resuming a nuclear enrichment program which had been suspended as part of the deal in return for lifting of international sanctions on Tehran.
Le Drian warned that the chain of reactions on JCPOA could intensify into a "bellicose spiral".
The top French diplomat described Iran decision to suspend sale of excess uranium and heavy water as a "bad reaction" in response to a similar "bad decision" by Washington to not honor its commitments.
"Iran has had a bad reaction, faced with a bad US decision to withdraw from the Vienna agreements and impose sanctions," said Le Drian while urging Tehran to "show its political maturity".