Europe
French gov't faces no-confidence vote over economic legislation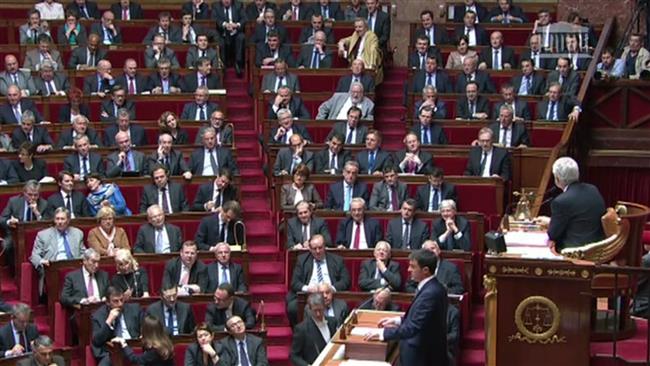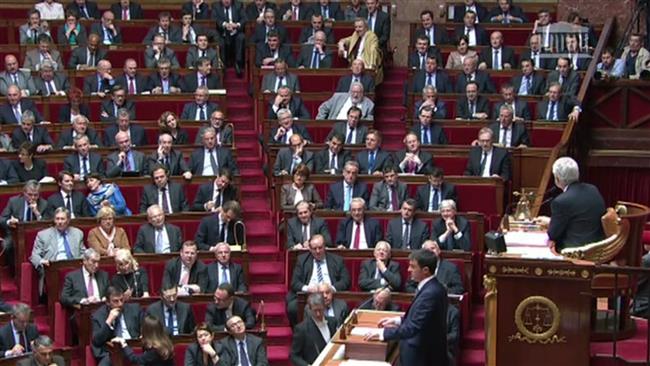 The government in France faces a no-confidence vote in the parliament over unpopular economic legislation put forward by the country's prime minister.
The vote, due on February 19, was planned after Prime Minister Manuel Valls opted to use an obscure provision in the French Constitution to push the economic legislation.
Despite a Socialist majority in parliament, Valls decided to use a "bazooka" known as "Article 49-3" because he feared that his "Macron Law" would not be approved. The Macron Law is a raft of right-wing measures that increase the sell-off of state-owned assets, reduce workers' rights and increase fees on the population in the recession-wracked country.
"I was surprised to learn that such an article even existed," French citizen Jean-Pascal Toumert told Press TV. "When you think of how many powers our president has when compared with other nations, it makes you wonder why we even bother with a legislative branch?"
Dozens of so-called "rebel" Socialist MPs refused to toe the Socialist Party line because they say the Macron Law is too pro-business.
The no-confidence vote is the only legislative recourse to the invocation of Article 49-3, and the Macron Law passes automatically if the vote fails.
However, the no-confidence vote is nearly certain to fail as it would compel the dissolution of parliament and force new elections. Few believe that lawmakers would risk essentially voting themselves out of their own jobs, and many feel this adds a new layer of manipulative cynicism to the government's decision to bypass normal democratic procedures.
The cohesion of the ruling Socialist Party may be in jeopardy, as there has been widespread condemnation of Valls' decision. It seems that the parliamentary majority of the Socialist Party cannot be taken for granted when it comes to supporting President Francois Hollande's economic choices.
"This is the type of maneuver that makes young people lose faith in politics," Marie Tournesol, another French citizen, told Press TV, referring to the prime minister's decision. "I can't believe that France could become a country which becomes so fractured that it is ungovernable, but this may be Valls' legacy."
Since the Macron Law became public, there have been dozens of protests across the nation involving perhaps millions of people, as well as numerous labor strikes.
The measures were mainly inspired by a report generated by ex-President Nicolas Sarkozy in 2007, a staunch fiscal conservative. The convergence of mainstream political parties on right-wing economic solutions has been a constant criticism of governments across Europe since the beginning of the Great Recession.
Valls regularly claims that the reforms will "unblock" France's economy, which has just completed its worst three-year performance since World War II.
The French prime minister has routinely said that passing the changes is critical to "national unity" in France's post-Charlie Hebdo atmosphere, which many have called confusing and manipulative.
Much of the English-language media has mistakenly put their focus of the Macron Law on a single provision: the extension of shopping on Sundays. Currently, France drastically prohibits working on Sunday in order to help ensure that workers have a regular time to spend with their families or to rest. While culturally significant, its economic impact is expected to be minimal.
This is while the biggest beneficiaries of the Macron Law will likely be those who can afford to purchase the planned state sell-off of certain national airports and dozens of other state-owned enterprises. The privatization of state assets to wealthy investors has been one of the most important developments since the start of the eurozone crisis, and has included everything from historic sites in Greece and Italy, to Portugal's water department, to state-owned corporate shares in France, Italy as well as many other examples.
The law also makes it harder for workers to sue for wrongful dismissal, in a clear reduction of the rights of labor. Amid record-high unemployment, reduced purchasing power and cuts to social services, the Macron Law will also provoke increased fees for legal and medical services.
Some have speculated that the government's goal with the reforms is to persuade the European Commission to ease France's debt reduction targets.
France's debt continues to be above the European Union (EU)'s arbitrary rule of 3 percent of GNP, mainly because of the continued low performance of its austerity-yoked economy as well as dozens of billions in lost government revenue caused by tax cuts on businesses and corporations.