Europe
French stage protest to mark Hollande's first year in office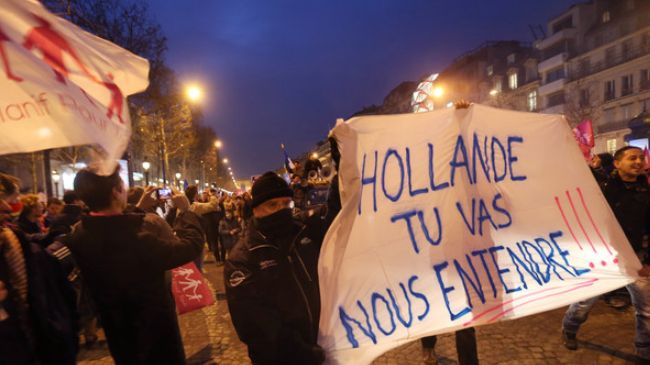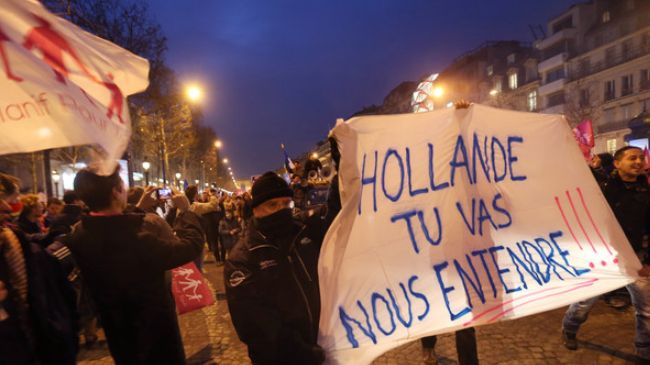 Thousands of people in France have staged a protest rally to mark President Francois Hollande's first year in office as the country continues to grapple with worsening economy and soaring unemployment.
France's Communist-backed Left Front called for its supporters to gather at the Bastille Square in the French capital, Paris, on Sunday, to voice their anger at the government's failure to deal with the country's economic issues.
The protest rally took place on the eve of the first anniversary of Hollande's win over former president, Nicolas Sarkozy, on May 6, last year.
The demonstration was led by France's Leftist Front leader, Jean-Luc Melenchon, who had earlier said he expected some 100,000 people to participate in the event.
During the rally, Melenchon told the participants that Hollande has betrayed his leftist supporters.
"We do not want the world of finance in power! We do not accept the politics of austerity!" Melenchon said.
The Sunday gathering comes as recent opinion polls revealed that the French president's popularity, which has already been affected by the poor performance of the economy, is nose-diving to record lows.
Meanwhile, other protesters will stage separate rallies in Paris and other cities to voice their outrage at the government over its plans to legalize same-sex marriage and adoption by gay couples after the parliament approved the proposed bill on April 23 despite massive protests.
The bill must be signed by Hollande and face challenge in France's Constitutional Council before taking effect.
Critics say the French president's campaign promise to legalize gay marriage has carried a political price, stating he should have instead focused on fixing the country's economy, which is on the edge of recession.