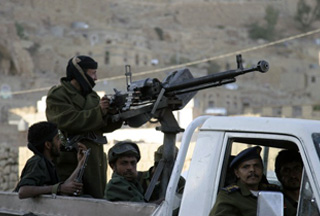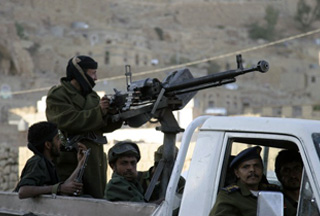 At least 40 people have lost their lives in four days of clashes between Yemen Hezbollah Movement fighters and members of an army-backed tribe in northern Yemen.
"The confrontations between the Houthis and the supporters of the tribal chief Sheikh Sagheer Aziz have resulted in the death of 20 tribesmen and 10 Houthis," AFP quoted a tribal source as saying on condition of anonymity.
But a member of the Houthi media office told Press TV that the latest clashes in Yemen came as a result of the army's attacks against the Houthis and the tribes in the region of Souffian.
He said that Houthi fighters have surrounded the Yemeni military bases in the area. He also confirmed that both sides had suffered casualties but did not specify the number of killed or wounded from either side.
The Houthi source also said he did not rule out the possibility of Saudi and American involvement, saying the US was "intervening via Arab hands."
Northern Yemen witnessed violent clashes following a massive offensive in August 2009 on Houthi fighters who took arms against the Sunni-dominated Sana'a government for its repression against the country's Shia minority.
The offensive, soon joined by the Saudi military, took a heavy toll on civilians and drew repeated warnings of a humanitarian disaster before a ceasefire deal put an end to the conflict in February.