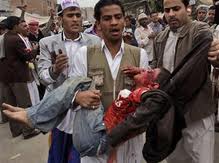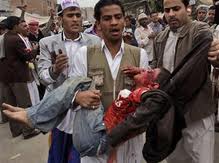 Clashes between Yemeni tribesmen opposing the rule of President Ali Abdullah Saleh and security forces have killed over 60 in the capital Sana'a, reports say.
A rocket was fired into the house of Yemeni opposition tribal chief Sheikh Sadeq al-Ahmar on Tuesday.
There have been conflicting reports on casualties near the residence of Ahmar in northern Sana'a.
Officials from both sides said at least 49 fighters loyal to the powerful chieftain and 15 government troops were killed, Xinhua reported.
Earlier reports had said that five supporters of Ahmar were killed as government forces shelled his house.
Another source said that heavy shelling also targeted tribesmen stationed at several government buildings including the trade and industry ministry.
On Monday, at least six people were killed and more than 20 others wounded in heavy fighting in the capital.
Yemeni President Ali Abdullah Saleh on Sunday refused to sign a power transition deal under which he would cede power within 30 days in exchange for immunity from prosecution for himself and his aides.
Ahmar, who is the leader of the Hashid tribal federation and a former supporter of President Saleh, joined the opposition in March. Saleh himself comes from the Hashid tribe.
Ahmar accused Saleh of trying to spark a "civil war" in an attempt to remain in pow