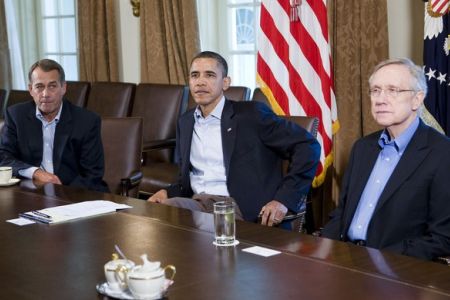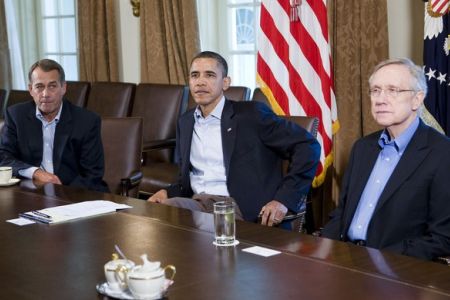 The US administration is again facing a looming government shutdown for the third time this year amid rising differences between lawmakers in Congress over taxes and spending.
The US senate majority leader Harry Reid warned on Wednesday that Democratic and Republican lawmakers are locked over how to keep the federal government funded past September 30th, when current the funding expires, Reuters reported.
If the two sides fail to agree on a one-trillion-dollar spending plan for the fiscal year 2012, the US government will stop functioning.
With time running out for a deal, President Barack Obama reportedly met Reid and other top Democratic lawmakers at the White House to discuss the looming deadline.
The Republican-led House of Representatives on Tuesday passed a bill that asks the government to pay for the $120-billion cost of the payroll tax cut by freezing federal pay and laying off government workers.
Reid, however, has vowed to kill the payroll tax cut as soon as he can bring it to a vote in the Senate.
Federal agencies and departments have started sending emails to employees to prepare the ground for an imminent government shutdown.
"In case Congress does not act, we are taking the steps necessary to be prepared if a lapse in funding should occur," spokesman for the Office of Management and Budget, Kenneth Baer said on Wednesday.
"That is why agencies are sending emails to their employees this afternoon to alert them to this possibility and how it would affect them," said Baer.
The Congress has passed two short-term funding measures since the beginning of this fiscal year on October 1 to prevent the shutdown of the government.