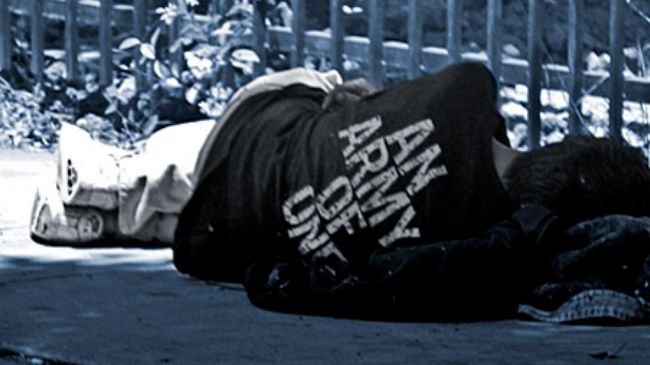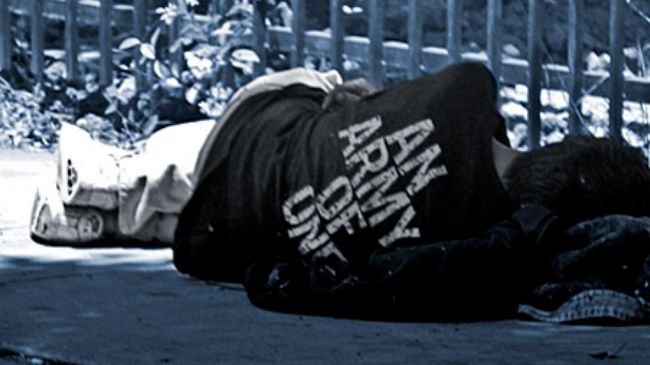 After a 30-year military career in which he earned three graduate degrees, rose to the rank of colonel, and served as an aide to Pentagon brass, Robert Freniere can guess what people might say when they learn he's unemployed and lives out of his van:
As of January 2012, more than 60,000 veterans were homeless.
As of January 2012, more than 60,000 veterans were homeless.
Why doesn't this guy get a job as a janitor?
Freniere answers his own question: "Well, I've tried that."
Freniere, 59, says that his plea for help, to a janitor he once praised when the man was mopping the floors of his Washington office, went unfulfilled. So have dozens of job applications, he says, the ones he has filled out six hours a day, day after day, on public library computers.
So Freniere, a man who braved multiple combat zones and was hailed as "a leading light" by an admiral, is now fighting a new battle: homelessness.
"You stay calm. That's what we were trained for when I went through survival training," he said recently in King of Prussia, where he had parked his blue minivan, the one crammed with all his possessions and held together with duct tape.
As of January 2012, more than 60,000 veterans were homeless, according to the Department of Veterans Affairs. Reducing that number has been a priority for the Obama administration – and the number of homeless veterans dropped 24 percent nationwide from 2009 to 2013. In Pennsylvania, however, it jumped 46 percent, to more than 1,400.
Joblessness among returning service members is even more common. Freniere describes a monthly lunch he has attended in Washington, a hushed tradition that he says attracts about 200 veterans. After they eat, the men and women who are unemployed stand up one by one to recite their service records, hoping someone else in the room will hire them.
Many, he says, are highly accomplished.
Like Freniere.
"He's done a lot of things; he's been a lot of places. . . . He's got the gift of gab. Very smart," said Adm. James Hogg, who officiated at Freniere's retirement ceremony in 2006.
Last month, Freniere teared up as he asked Hogg for advice on finding a paycheck. Hogg was stunned.
"That's crazy," Hogg said in an interview. "With all his experience, especially in intelligence, there's got to be a spot for him."
Spots are hard to come by. Freniere, like many of his fellow down-on-their-luck veterans, does not match any hat-in-hand Hollywood image of homelessness. He receives an annual pension from the military of more than $40,000.
His struggle to find a job after retiring from the Air Force collided with the end of his marriage nearly two years ago. Unable to return to the home he shared with his estranged wife, and faced with expenses including bills for two sons in college and debts that mounted when he maintained a nicer lifestyle, he took up a nomadic existence.
Between spells on the couches of friends in multiple states, he sleeps occasionally in motels and other times in the dented blue van.
On Veterans Day, he found himself in King of Prussia. He had paid for a motel room the night before, to be near his younger son, Eric, a student at Valley Forge Military Academy and College in Wayne.
But Freniere could not afford another night, so he was packing his belongings into his minivan.
A motel guest who noticed Freniere's Air Force cap and packed van struck up a conversation, and ended up paying for Freniere to stay another night.
That same week, Freniere agreed to share his story with an Inquirer reporter who had heard about his plight.
Over chips and salsa at a Baja Fresh in King of Prussia, he spent more than four hours engaged in a rambling conversation in which he quoted Dante, Andrew Jackson, and the novelist Leon Uris. He touched on his hobbies, from painting to playing guitar to learning new languages.
Freniere, who said he had been found to have dyslexia and attention deficit disorder, said he earned the nickname "Lightning" in the military for his constant motion and ability to talk anyone's ear off.
"Lightning" mentions the screenplay he wrote about astronauts going to the moon, and the beginning of a romance novel. He describes competing in sailing regattas with friends. He says he once tried to start a business with his wife and mother selling football-themed stuffed ducks.
Some of what he says is not easily or independently verifiable. But the bulk of his story – and one that is confirmed by military records – is a story of service…