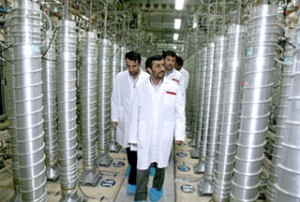 The Group of Eight industrialized countries' foreign ministers say they are open to hold dialogue with Iran over the country's nuclear program.
The G8 ministers made the remark on Tuesday during a meeting on global security currently being held in Gatineau, a suburb of Quebec in Canada.
However, a draft of the G8 final communique said that the group is concerned by what it called Iran's 'non-compliance' with the United Nations resolutions.
The draft also called on the international community to take 'strong steps' to show its resolve over the Iranian nuclear program.
The three Western members of the UN Security Council, the United States, France and Britain, plus Germany, have been pushing for new sanctions against the Islamic Republic over its nuclear program by accusing Tehran of seeking nuclear weapons.
UN nuclear watchdog inspectors stationed in Iran, however, have not found anything to verify that claim.
The Iranian government has repeatedly declared that it will never relinquish the legitimate nuclear rights of the Iranian nation, no matter how much pressure the West imposes on the country.
Iran's nuclear program was launched in the 1950s with the help of the United States as part of the Atoms for Peace program.
After the 1979 Revolution, which toppled Iran's US-backed monarch Mohammad Reza Pahlavi, Western companies working on Iran's nuclear program refused to fulfill their obligations even though they had been paid in full.