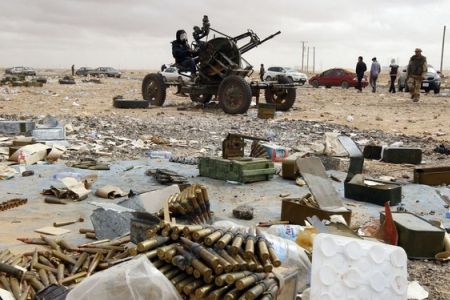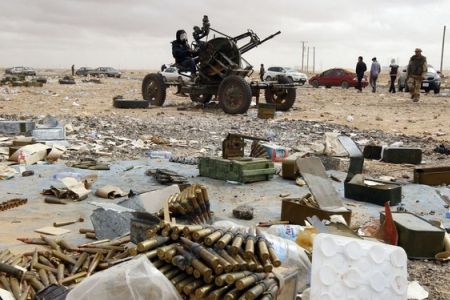 One of Libyan ruler Muammar Gaddafi's closest aides is in on a mission in Egypt amid surging clashes between government forces and protesters in Libyan cities.
A plane carrying Libyan army General Abdel-Rahman al-Zawi landed in Cairo on Wednesday, the Associated Press reported.
A Libyan diplomat has confirmed that Major General al-Zawi is carrying a message for Egypt's military council which is now running the country.
No details have been revealed about the visit.
Gaddafi has also sent some envoys to European countries following the European Union's new sanctions on Libya which the bloc says are aimed to pressure Tripoli to stop using violence against anti-government protesters.
There are reports that two of Gaddafi's private jets have left Libya for the Austrian capital city of Vienna and the Greek capital, Athens.
The Libyan government has reportedly sent other envoys to Brussels for talks with EU and NATO officials.
NATO defense ministers are scheduled to convene in Brussels on Thursday to discuss the imposition of a no-fly zone over Libya.
Meanwhile, NATO says it is ready for any possible scenarios in Libya. NATO's Secretary General Anders Fogh Rasmussen says the military alliance is not looking to intervene in Libya but is planning for all eventualities.
Rasmussen has also reiterated that any decision about imposing a no-fly zone on Libya requires a UN mandate.
On Wednesday, intense clashes between revolutionary forces and Gaddafi loyalists continued in the cities of Ben Jawad and Ras Lanuf in the east, and in the western city of Zawiyah.
Opposition forces have reportedly taken back the control of Zawiyah. The oil-rich city is of great significance to Gaddafi since it is the closest to his stronghold in the capital, Tripoli.