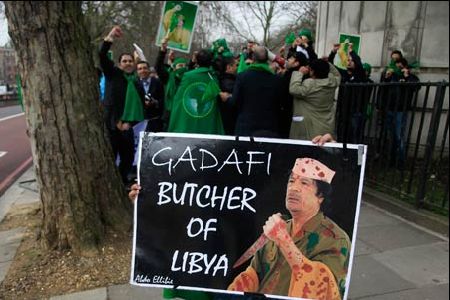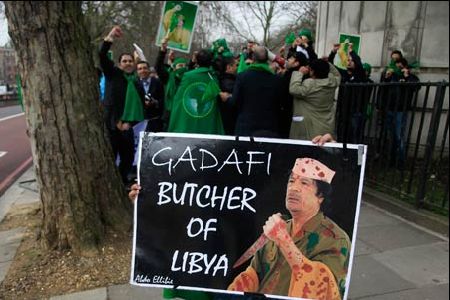 Forces loyal to the embattled Libyan ruler Muammar Gaddafi have launched more airstrikes on strategically important areas held by revolutionary forces.
Gaddafi warplanes dropped missiles on the residential areas in the eastern port of Ras Lanuf. There are also reports of tank fire and fierce battles between opposition forces and Gaddafi loyalists in the city of Zawiyah.
Government troops, in the mean time, surrounded the southern town of Zintan, but revolutionary forces are still in control.
Two hotels housing reporters have come under bomb attacks in Benghazi.
The liberated east of the country is now settling and moving forward despite fierce battles between revolutionary and pro-regime forces in some cities, a Press TV correspondent reported.
On the international front, Britain and France are stepping up their efforts to put in place a no-fly zone over Libya.
A UN resolution is being drafted to be debated by NATO defense ministers on Thursday.
In the meantime two members of the revolutionary leadership are to speak to the members of the European Parliament on the developments in Libya later on Tuesday.
Moreover, revolutionary council has rejected an offer from Gaddafi and his associates to negotiate an exit strategy.
"We are not negotiating with someone who spilled Libyan blood and continues to do so. Why would we trust the guy today?" Reuters quoted the council's spokesman Mustafa Gheriani as saying.
The 30-member body was established in the eastern city of Benghazi by revolutionary forces following the liberation of several eastern cities.
The revolutionary council, headed by Libya's former justice minister Mustafa Abdel Jalil, who was among the first high-profile Libyan figures to defect from the Gaddafi regime following the brutal crackdown on opposition protesters, plans to lead the country to an election.