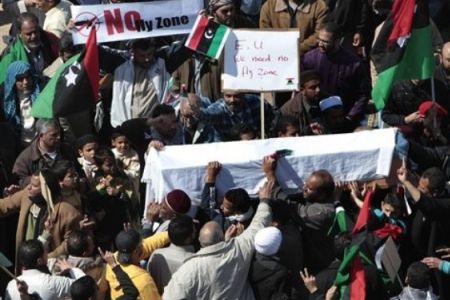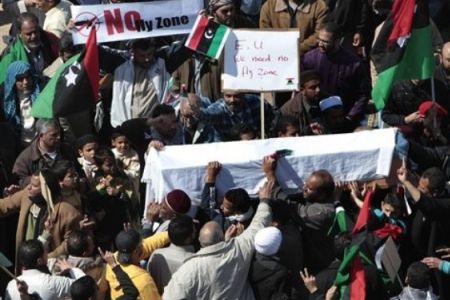 Troops loyal to embattled Libyan dictator Muammar Gaddafi have reportedly targeted residential areas in cities under the control of opposition forces.
Warplanes reportedly bombed a refinery and residential houses in the eastern oil-rich city of Ras Lanuf on Friday.
Gaddafi's troops are preventing ambulances from entering the cities and taking the injured to hospitals.
Several people were killed and dozens were wounded in similar air strikes in Ras Lanuf and Brega on Thursday.
Gaddafi's son, Seif al-Islam, has labeled revolutionary forces as "former Guantanamo inmates."
He said the current unrest in Libya is a military coup attempt. On Thursday, Seif al-Islam called the anti-government forces "terrorists" and promised a full-scale offensive against them.
Meanwhile, revolutionary forces in Benghazi have sent reinforcements to Ras Lanuf to counter a major offensive by Gaddafi's loyalists.
Thousands of Libyans have taken to the streets in Benghazi against the long-time rule of Colonel Gaddafi after the Friday Prayers.
Benghazi's Friday Prayers Imam called on the protesters to continue fighting until Gaddafi's ouster.
The city is no longer under Gaddafi's control. Benghazi is known as the capital of Libya's revolution and is home to the interim Transitional National Council.
The 30-member body was established in the city by revolutionary forces following the liberation of several eastern cities.
The council, headed by Libya's former justice minister Mustafa Abdel Jalil, plans to lead the country to an election.
Jalil was among the first high-profile Libyan figures to join protesters following the Gaddafi regime's brutal crackdown on the opposition.
The latest report published by the Libyan Human Rights League says a brutal crackdown by the regime on opposition protests that began two weeks ago has left an estimated 6,000 people dead so far.