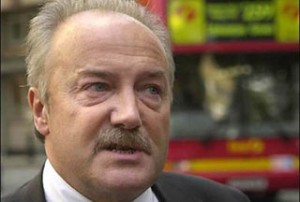 British Lawmaker George Galloway has appealed to Cairo to allow the Viva Palestina humanitarian aid convoy he is accompanying to enter the blockaded Gaza Strip.
The call comes as activists on Viva Palestina faced problems as the convoy was making its way to the Jordanian capital, Amman.
The aid shipment, which originally departed from London on December 3 with the aim of breaking the months-long Israeli siege on Gaza, was prevented by Jordanian police from entering Amman, where it was scheduled to hold rallies.
Instead, dozens of the convoy's vehicles formed a rolling road block on the main highway to the city and shut down traffic in a move the organizers called a peaceful protest.
After an hour of grid blocked traffic, the police had to back off and promise to allow the pro-Gazan team into the capital city amid unexpected gestures of support from Jordanian drivers stuck in the traffic jam.
In Amman, the founder of Viva Palestina George Galloway thanked Jordanian authorities for finally facilitating the convoy's entry into Amman and appealed to the Egyptian President Hosni Mubarak to also open the way for Viva Palestina.
"I ask him on behalf of our convoy, on behalf of all the people around the world, whose hearts are bleeding, whose eyes are weeping for Palestine to please open your gates for us and allow us to proceed through the gates of Rafah to besieged Palestine," he urged.
The convoy is scheduled to spend two days in Jordan before moving to the Red Sea port of Aqaba where it hopes to take a ferry into Egypt, hopefully, crossing into Gaza.
If nothing intercedes, Viva Palestina is to cross into Gaza on December 27 to mark the first anniversary of the Israeli offensive against the blockaded enclave, but this will not happen if authorities in Cairo refuse to allow the convoy ashore.
Lifeline 3, the third international convoy headed to Gaza under the name Viva Palestina, comprises 210 trucks laden with basic food items and medical supplies
450 activists, including 30 Americans, 150 Turks and a number of Europeans are accompanying the convoy.