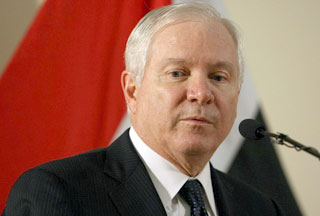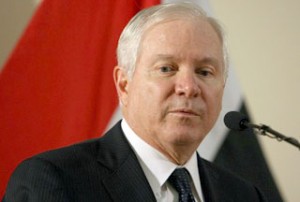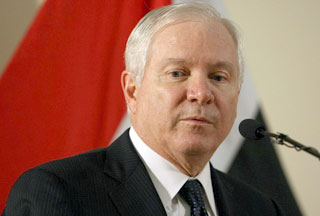 As Western powers push for a fourth set of sanctions against Iran, US Defense Secretary Robert Gates says he hopes the punitive measures are "significant."
"I think that you are going to see some significant additional sanctions imposed by the international community, assuming that the Iranians don't change course and agree to do the things they agreed to at the beginning of October," Gates said in a Friday address to US military forces in Kirkuk, Iraq.
With regards to an alleged plan by the Israeli government to attack Iran's nuclear site, Gates said that "any military action would only buy some time, maybe two or three years."
His comments came a day after United States, Britain and France lobbied the UN Security Council to pass a new round of punitive economic and political sanctions as soon as next year.
During the UNSC meeting, Washington's envoy to the United Nations, Susan Rice, stressed that the West is "firm in its conviction that Iran must comply with its international obligations."
The move was strongly opposed by the UN representatives of Russia and China, both of whom called for "patience and restraint" in dealing with Tehran.
Sanctions have not proved helpful in the West's strategy to force the Tehran government into halting its nuclear activities.
The Security Council, under pressure from key members such as Washington, has adopted three sets of sanctions against Iran over what it claims to be the country's "suspicious nuclear activities."
This is while Iran has signed the nuclear Non-Proliferation Treaty (NPT) and has allowed regular inspections of its nuclear installations.
Last week the International Atomic Energy Agency (IAEA) passed a resolution demanding that Iran stop construction of the newly-revealed Fordo nuclear facility outside Tehran.
The developments come as Western countries, spearheaded by the US, have been pressuring Iran to accept a UN-backed draft deal which wants Iran to send most of its domestically produced low enriched uranium (LEU) abroad to be converted into more refined fuel for the Tehran reactor that produces medical isotopes.
Iranian officials rejected the proposal, first floated by the administration of US President Barack Obama, saying there are no guarantees that the country would in fact receive the fuel it requires.
Tehran says it is ready to accept the nuclear swap only if the West can win back its trust.