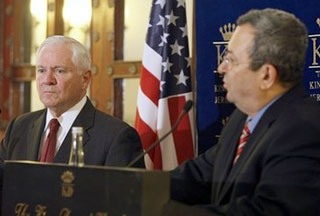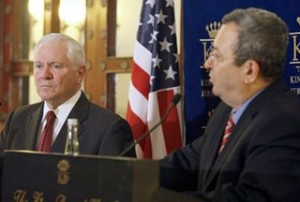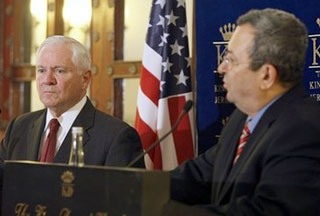 Washington says Iran's nuclear program is a threat to both Israel and the United States, reaffirming its 'unbreakable bonds' with Tel Aviv.
US Secretary of Defense Robert Gates made the comments in a joint news conference with the Israeli Defense Minister Ehud Barak in Jerusalem (Al-Quds).
He added that Washington will use diplomacy and tougher sanctions against Tehran to stop its nuclear program.
"We had a good meeting during which I reaffirmed the strong commitment of the United Sates to the security of Israel. " he said adding "We also discussed the regional security challenges we both face from terrorism to Iran's pursuit of nuclear weapons. "
The US Secretary of Defense said the US will continue to ensure that Israel has the most advanced weapons.
Gates went on to add President Barack Obama is expecting a response from Iran on its nuclear program by September.
"The president is certainly anticipating or hoping for some kind of a response this fall, perhaps by the time of the UN General Assembly in September".
Barak for his part said that the schedule for US-led engagement with Iran should be kept short, adding that Israel does not rule out any means of dealing with Iran's nuclear threat, and is taking "no option" off the table
"Israel remains in its basic position that no options should be removed from the table, despite the fact that at this stage a priority should be given still to diplomacy and sanctions," he said.
At the same time, Barak did not ignore the predicted implications of such an offensive.
"We are not blind, whatever we do can have implications on our neighbors and others, we are trying to take that into account," he said
The issue of Iran's nuclear activities was expected to be at the center of talks between the two sides.
The US and Israel claim Iran is seeking to develop nuclear weapons. Iran says its peaceful nuclear program is aimed at producing electricity.
The International Atomic Energy Agency which has carried out the largest amount of inspections in the history of the body on Iran's nuclear facilities has not found any evidence of diversion in Iran's nuclear program.
The US intelligence community has also confirmed Iran is not pursuing nuclear weapons.
Gates' visit comes amid growing tensions between the two allies over Israel's settlement activities. Gates will also be visiting Jordan. He's expected to talk about the situation in Iraq after US forces complete their scheduled pullout by the end of 2011.