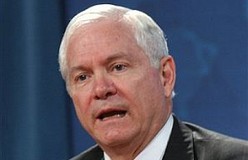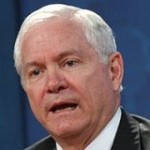 "US allies in the Middle East should strengthen their respective militaries in order to deter Iran from continuing its suspected nuclear weapons program," US Secretary of Defense Robert Gates said in an interview published by Al-Jazeera on Tuesday.
"One of the pathways to get the Iranians to change their approach on the nuclear issue, is to persuade them that moving down that path will actually jeopardize their security, not enhance it," he told the station. "The more that our Arab friends and allies can straighten their security capabilities, the more they can strengthen their co-operation, both with each other and with us, I think sends the signal to the Iranians that this path they're on is not going to advance Iranian security but in fact could weaken it," Gates said.
When asked about the perceived "double-standard" regarding US policy towards the suspected Israeli nuclear program, versus the aggressive action currently being employed against the Iranian program, Gates defended the American behavior. "First of all, it's the Iranian leadership that has said it wants to wipe Israel off the face of the earth," he said. "Those threats have not been made in the other direction."
"It is the Iranian government that is in violation of multiple UN Security Council resolutions with respect to these programs, so focus needs to be on the country that is feuding the will of the international community and the United Nations," Gates added.
"Despite the ever-increasing pressure on the Islamic regime, diplomacy continues to be the preferred course," Gates emphasized in response to a question of whether the US could ensure that Iran would not use Iraq to retaliate against any future military strike.
"I'm not going to address hypothetical situations," he said. "Our view is that there is still an opportunity for diplomacy and political and economic pressures to bring about a change of policy in Iran, so getting into hypotheticals about military reaction, I think doesn't take us very far."
Over the next few weeks, the topic of the Iranian nuclear program is expected to be raised during a series of high-level meetings on the sidelines of the UN General Assembly gathering, as well as the G-20 summit in Pittsburgh.